I was fortunate to travel to the amazing country of Kenya last November/December.  It was my first visit to this East African nation and I, having visited Tanzania in 2019, was curious as to how it might compare.  Kenya exceeded all my expectations, but one location in particular really stood out to me and that was the Chyulu Hills National Park, located in Southern Kenya.  Here I had the opportunity to stay at the exquisite ol Donyo Lodge, managed by Great Plains Conservation, a company that prides itself on having a very low-impact, highly sustainable, tourism model.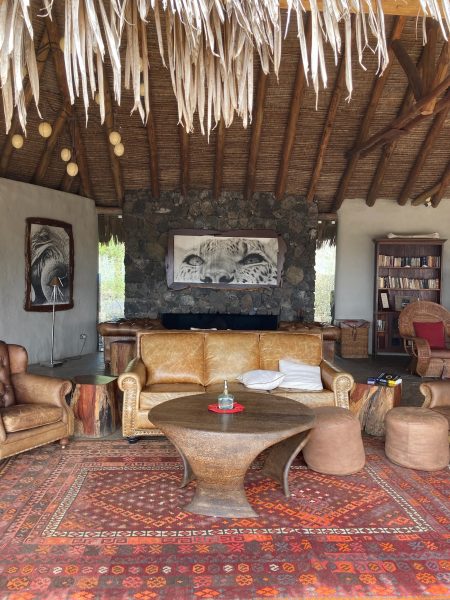 A short 45-minute flight from Nairobi's Wilson Airport brought me and my travel companion to the ol Donyo Airstrip. I was immediately awe struck by the landscape—its abundance of space and the absence of any other vehicles (in fact, we were the only ones on our 12-seater plane).  One of the reasons for this is that ol Donyo is the only lodge in this remote location. Situated on Maasai-owned land that borders Chyulu Hills National Park, the property boasts 275,000 acres all to itself.  It is nestled between Tsavo East and Amboseli National Parks and on clear days, the views of Mt. Kilimanjaro take your breath away. Having just come from the bustling city of Nairobi, it felt like we had been dropped onto another planet entirely.  I could not have dreamed of a more incredible place for a first safari experience in Kenya!
Perched on a hillside, ol Donyo Lodge is exquisite, beautiful, and romantic.  Every suite (and there are only seven) comes with its own private pool and stunning views out to the savannah below.  During the day, your suite remains open to the outdoors, creating a space in which inside and outside merge into one (in fact the living area has no wall at all to separate it from the outdoors which is quite unique)!  Likewise, the floor to ceiling glass doors in the bedroom/bathroom create the same effect.  Endless views for days!
From our suite, we overlooked a watering hole and frequently saw elephants, giraffe, zebras and antelope arrive for a drink while baboons frolicked on the plains.  Should you wish to get even closer to the watering hole activity, the lodge offers a couple of photographic hides. You walk down into these open-air structures and spend time observing wildlife up close.  Even after you return home, there is a website you can log onto to continue watching the animals as they visit the watering hole (your safari never really needs to end)!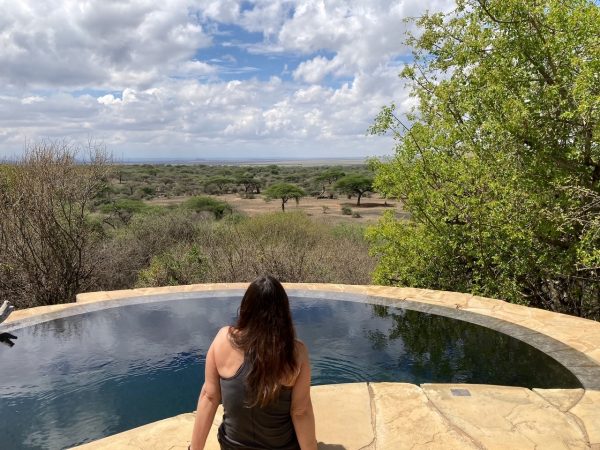 Another amazing component of our suite (aside from the heavenly outdoor shower which I loved), was the rooftop terrace. Climbing up the outdoor staircase, this deck housed our star bed, which could be set up each night if we were interested in sleeping outdoors. This gave us the opportunity to truly take in the magic of Kenya's incredible night skies.  I could not help but feel so small laying flat on my back and staring up the vast and endless array of stars that lit up the night sky. With absolutely no light pollution, it was silent and beautiful and not an experience I could recreate back at home in the city where I live.  I felt blessed just being there.
As each day dawned at ol Donyo, there were so many activities (aside from safari and game viewing) that I wanted to jump out of bed and into my land cruiser to get started! One of the incredible benefits of staying here is that each guest is given (on loan) a very professional Canon camera (which I was initially nervous to use but gradually became very comfortable operating)!  This enabled even a novice like myself to take stunning photographs during our daily game drives.  The camera is charged by your guide each evening and upon departure, you receive a memory stick containing all of the photos you have taken.  An incredible keepsake.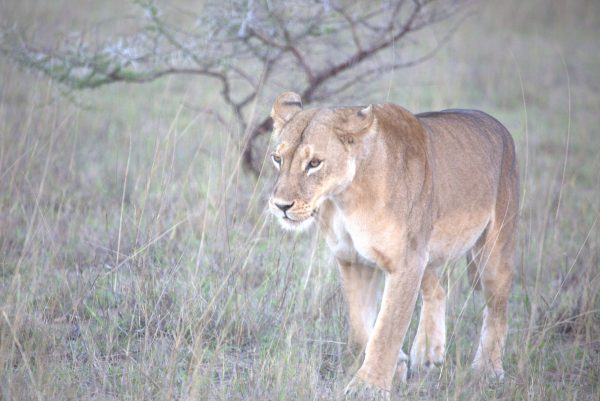 Safari journeys can be done in a 4×4 open vehicle, as guided bushwalks on foot, on horseback (for experienced riders), or by mountain bike.  We chose to do an early morning mountain bike ride because I could already tell that the incredible Relais & Chateaux cuisine we were being served each day was too good to pass up; So, the tradeoff was to try to burn a few calories!  We were driven out to the starting point and our bikes (and helmets) were already there waiting for us.  We rode for just under an hour with guides in front and behind us to keep us safe.  The terrain in this area is rugged and of volcanic origin which made it challenging at times; but it was beautiful to be cycling past plains game and through such a dramatic landscape.  It was an exhilarating and special experience and one I had never previously done while in Africa.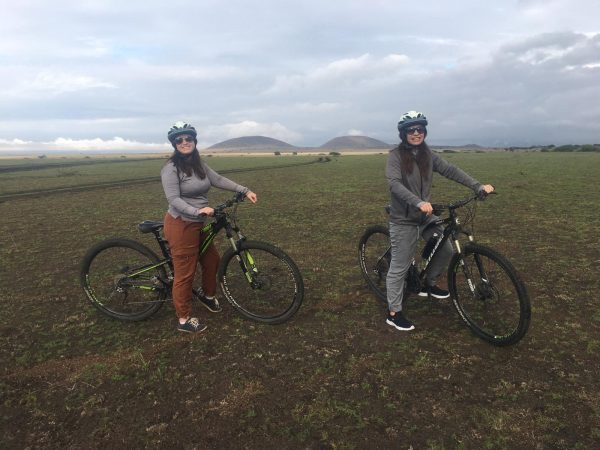 Afterward we thought we were being driven back to the lodge for breakfast but surprise…a lavish bush breakfast (complete with champagne) was waiting for us in the wild.  It was actually more like a gourmet picnic with tablecloth, cutlery, etc. There were cold options such as fruit, yogurt, and cereal along with hot items like pancakes and even eggs made to order!  There was also, incredibly, a hand washing station, evidence that the lodge pays special attention to cleanliness and safety in every aspect.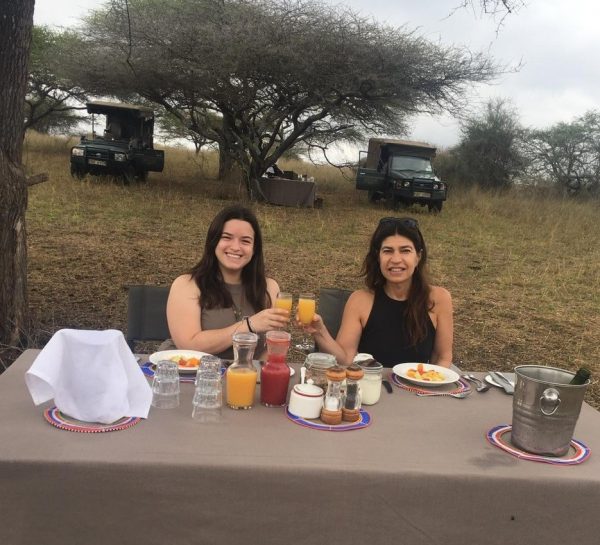 It was our next encounter that was perhaps one of the most special moments from our time in Africa. Our guide Dan, a Maasai himself, and born in the Chyulu Hills, accompanied us to a local village about 90 minutes' drive from the lodge. Dan, incidentally, is also one of the local leaders of Great Plains Foundation's community programming. Their conservation and education initiatives focus on inspiring local young people to preserve and protect their incredible landscapes. With him as our guide, we knew we were in great hands right from the start.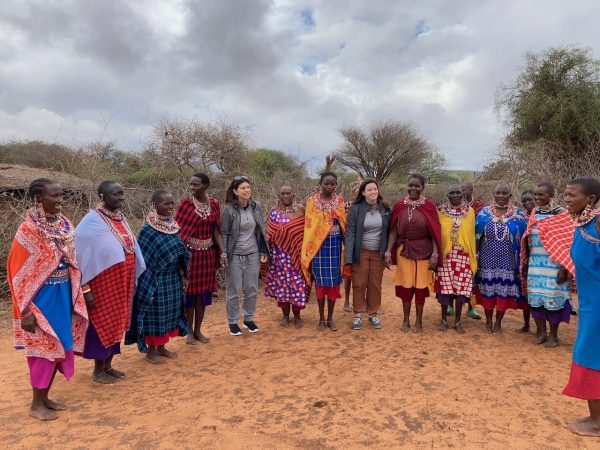 The village we visited was home primarily  to women (many of whom were widows) of all ages.  Dan facilitated a question-and-answer session during which we asked questions of them, and they asked just as many of us.  We sang with them, danced together, and were invited into one of their homes (which the women had built themselves out of cow dung). These women were fierce and very proud. There was also an opportunity to purchase locally made crafts, if desired.  You could tell that these women were happy to host us; but we were truly the ones who felt the most fortunate, having had this opportunity to meet them. It reminded me that while Africa is full of natural wonders and stunning wildlife, it is the people who keep us coming back again and again.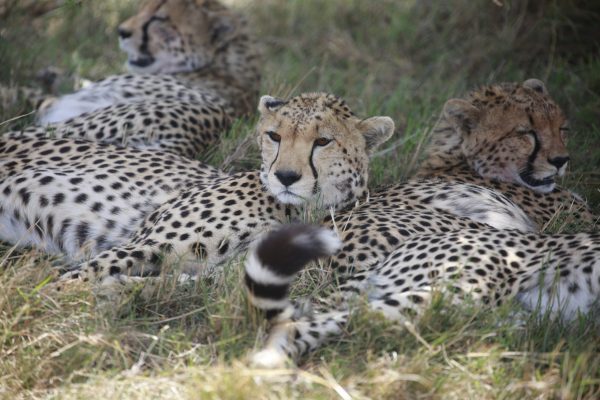 Our afternoon game drive lasted into the dark of night and we spotted many big cats, such as lions and cheetah. The encore was an incredible night sky, a hot water bottle in bed to snuggle up with, and waking the following morning to a glorious view of Mt. Kilimanjaro.  While we would continue to have incredible wildlife adventures and stay at some beautiful lodges in Kenya, none quite matched ol Donyo, as we were able to experience so much in such a private setting.