It's hard to describe Patagonia. The first few things that come to mind when thinking of this area are: mountains, fields of ice, the ever-present guanaco (similar to a llama), and the elusive puma. What's often missing, and hard to fully comprehend, is the vastness of the region. It's said to encompass more than 300,000 square miles in both Chile and Argentina, crossing the Andes Mountain Range and spanning from the Pacific Ocean on Chile's western boarder to the Atlantic Ocean on Argentina's eastern border.
In Patagonia, the air feels fresher than anywhere else I've been on earth. The waters are crystal blue, a color I previously imagined to be possible only on the shores of the South Pacific. Fresh water streams and rivers from melting glaciers abound. The views around every turn are jaw-dropping and impossible to fully capture. The roads predictably are windy, bumpy, and often unpaved. The feeling of being in Patagonia is super special and is easily one of my top three favorite places in the world.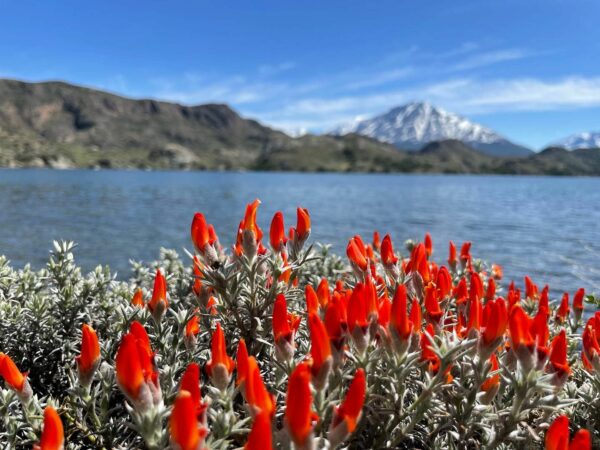 For me, there are four regions within Patagonia that offer some of the most amazing scenery the world has to offer and seemingly endless activities and properties from which you can experience them. Nearly impossible to fully experience in just one trip, try to focus on the highlights that interest you most. Then, once you fall in love with the region, I am willing to bet you'll want to return again and again!
All of these regions can be visited October through April, and a few extend into the low season with alternative winter activities on offer. Note: The town of El Chalten has a slightly shorter season and usually closes by the end of March.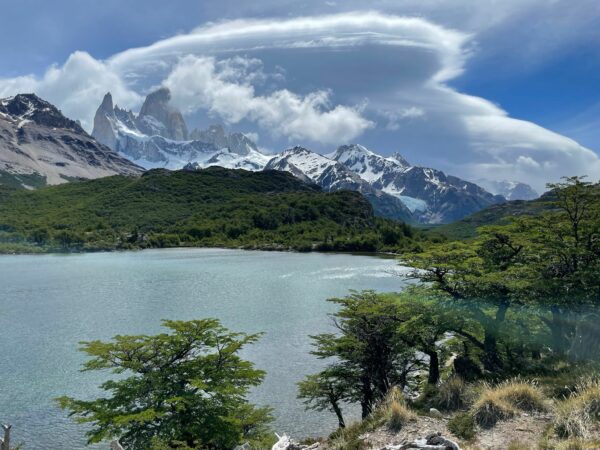 Chile
Patagonia National Park
Beyond the epic scenery, what makes Patagonia National Park so special is that it's one of the newest national parks in Chile and has an amazing conservation story at its roots. Far north of Torres del Paine, but still far south of Santiago, this park sits in a vast wilderness surrounded by additional national parks and protected reserves. The road transfer to reach the only hotel within the park is just over 6 hours from the nearest airport (Balmaceda Airport). But with mountain peaks, lakes, and rivers around every turn, the drive is well worth it.
The land that makes up Patagonia National Park was privately owned and ranched for decades, depleting it of its natural flora and fauna. Then, in the 90s, well-known conservationists and Patagonia-lovers Douglas and Kris Tompkins fell in love with this stunning place and, upon purchasing the land in 2004, made it their life's mission to return it to its wildness. Following Douglas' untimely death in 2018, they did just that, donating the land back to the Chilean government with the promise of its protection and preservation.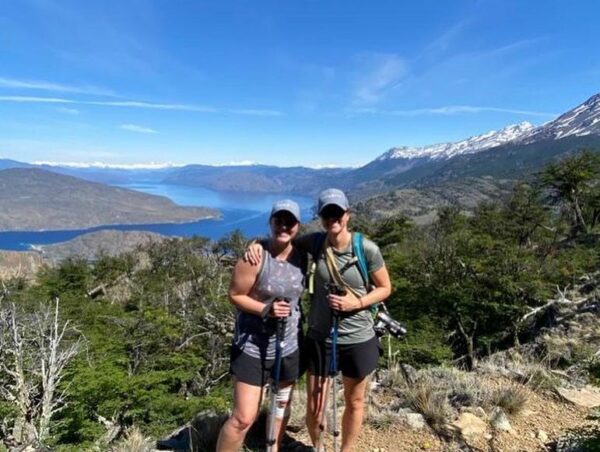 Their passion for conservation can be felt during every hike and with each stunning view. Evidence of the flourishing fauna shines, with amazing puma sightings at the lodge and guanacos everywhere! You will see marked differences between the fertility of the land that continues to be ranched compared to the lands that have been returned to their wildness.
Unlike Torres del Paine, you won't find a short list of the "hot spots" or "must-dos." With over 30 excursions, from hiking to overland car rides, kayaking to e-biking, each offers unique insight into the park and promises exceptional scenery. Everything here still feels new and a bit undiscovered. That's what made it so amazing! Each day we expected the unexpected and this park delivered the most awe-inspiring experiences.
A minimum stay of 4 nights in this park is recommended, but a longer stay is encouraged and would be amazing! You can read more about Patagonia National Park and its incredible conservation story here.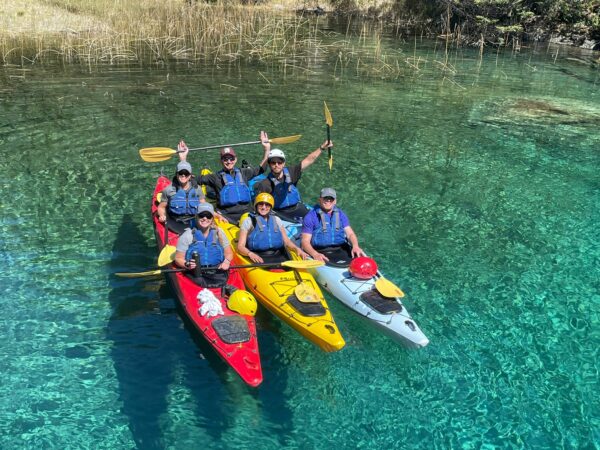 Torres del Paine National Park
Torres del Paine National Park is often considered the crème de la crème of Patagonia and it's hard to argue with this sentiment. It is named after the three iconic granite peaks known as "Los Torres" ("The Towers" in English) which make up the Paine Mountain Range/Paine Massif.
Established more than 50 years ago, Torres Del Paine National Park is well-known and very popular amongst both international and domestic visitors, particularly during the austral summer season of November-February. This park can, however, be visited October through April and crowds are usually a bit smaller outside of these peak summer months in the Southern Hemisphere. The trails are well traveled (due to the high volume of visitors) and the hiking and scenery here are world class! This is often the place that leads travelers to fall in love with Chile and Patagonia as a whole.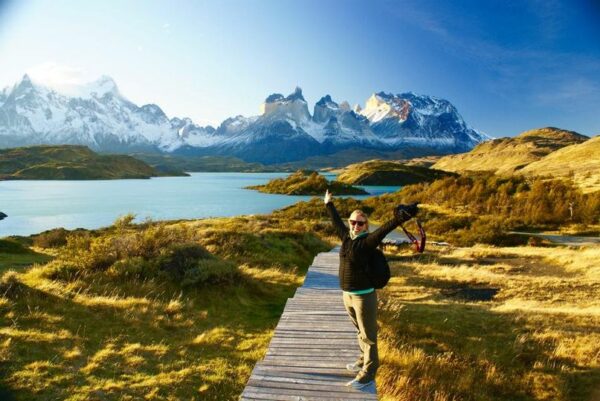 In this park, you'll spot lots of guanacos, but the puma remains quite elusive (although there are a few properties offering tracking excursions). The landscape feels starker than Patagonia National Park, with less permanent bodies of water and vegetation. And yet, it remains stunning in its own, unique way.  Additionally, there is a lot more written about this park, making it ideal for those who like a plan and want to read up on all the different hiking options!
A minimum stay of 4 nights in this park is highly recommended.
Combining the Two
Torres del Paine and Patagonia National Park pair well together or can be visited on separate trips to Chile. The logistics of getting to both aren't easy and involve several flights and long hours in the car. However, everyone I've met that has traveled to these areas agrees both offer a wonderful Chilean Patagonia experience and are well worth any logistical hassles you might encounter in the planning process.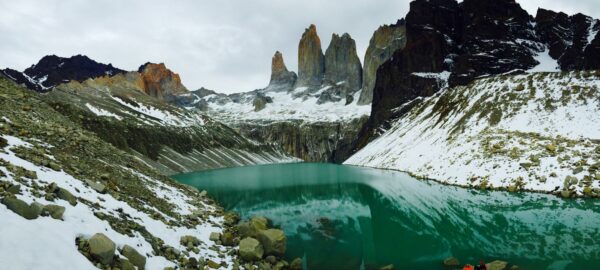 Staying at the Explora lodges within both parks makes combining the two destinations easier, as the company offers small aircraft charter flights between the two. Operating on certain days of the week, guests can fly from Balmaceda to Cochrane (cutting 6 hours of driving time) and/or Cochrane to Puerto Natales, which is just a few hours from Torres del Paine. This is the best way to see both parks and maximize your time at each.
Argentina
Unlike Chile, in Argentina visitors can enjoy and explore the country's two Patagonia highlights – El Calafate and El Chalten- by visiting just one national park – Los Glaciares National Park.
El Calafate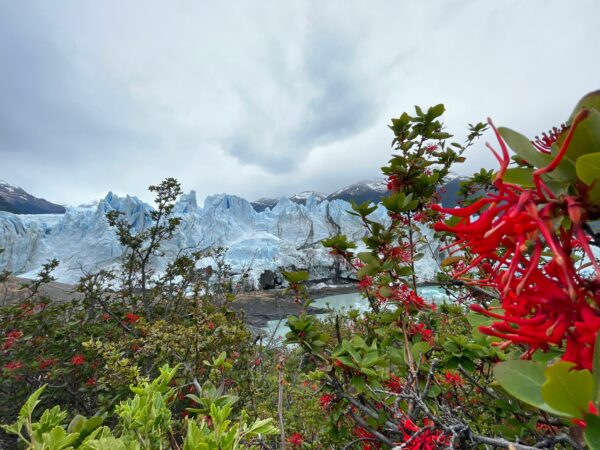 El Calafate is home to the stunning Perito Moreno Glacier and is situated on the southern border of Lake Argentino. The glacier is often the main draw of Los Glaciares National Park and while here, guests can participate in a wide variety of activities that bring them to the glacier, the lake, and its surrounds. Some of the most popular excursions include appreciating Perito Moreno from the various viewpoints along an adjacent catwalk, kayaking near the glacier in Lake Argentino, and taking part in a mini trek, during which you and a group ferry across the lake to stroll on top of the glacier wearing crampons.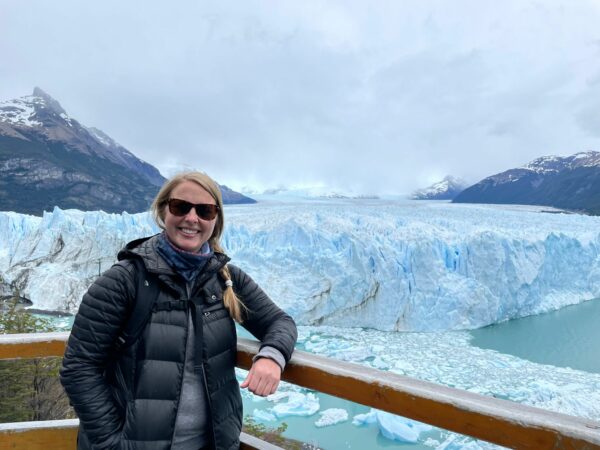 One unique aspect of this area is that El Calafate has a lively town that many travelers enjoy visiting during their stay. Just an hour outside the National Park, cute chocolatiers, up-and-coming breweries, and fun restaurants are well worth a stop.  Going into town is a pleasant way to mix up your experiences in Patagonia, as most other destinations are much more remote.
Los Glaciares National Park is arguably one of the most accessible locations in all Patagonia as its entrance near El Calafate is situated about 2 hours from the nearest airport (El Calafate Airport) with decent access roads; many of which are paved. A minimum stay of 2-3 nights in this area is highly recommended. More can be read about Perito Moreno's activities and what makes this glacier so special here.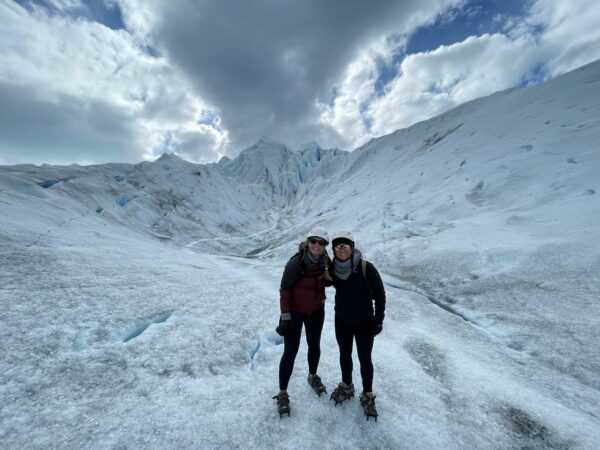 El Chalten
The main attractions in El Chalten also reside within Los Glaciares National Park, even though it's about 4 hours' drive from El Calafate. Often called the capital of trekking in Argentina, El Chalten is far less visited, due to its location, and thus a true hidden gem. Having attracted backpackers and campers for generations, it recently added a few luxury accommodations and has thus become appealing to a far wider range of travelers. Decent roads connect this quaint town to El Calafate, making the two an easy combination.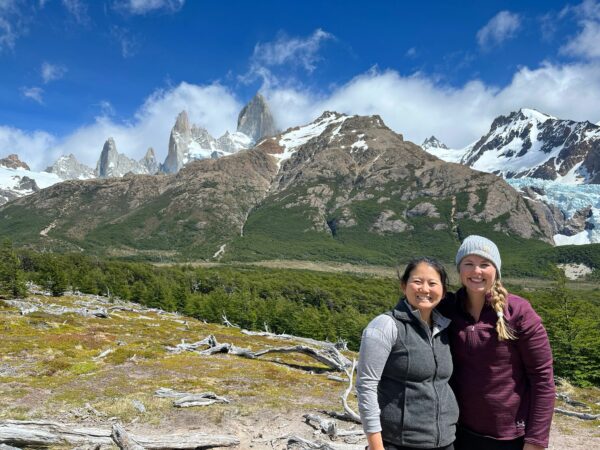 One fun aspect of El Chalten is that, because it resides at the base of the mountains, you can set off for a day hike right from the center of town. One popular trail brings visitors to Laguna del Los Tres, a lagoon directly in front of Mount Fitz Roy. The hike is stunning and offers jaw-dropping views similar to those seen during the trek the base of the towers in Torres del Paine.
What I love most about El Chalten is that no matter where you trek or what you choose to do, on a clear day, you'll have tremendous views! The jagged and sharp mountain spires are so beautiful that the Patagonia clothing brand chose to base their logo after the Fitz Roy and its stunning peaks. What's more, the town is incredibly charming. A minimum stay of 3 nights is highly recommended.
Combining the Two
El Calafate and El Chalten would make a wonderful combination especially if you decide to stay in Argentina for the duration of your trip and explore Chile on a different adventure. The convenient part about combining these two areas is that your visit only requires one commercial flight to access them, with a road transfer (on mostly paved roads) in between.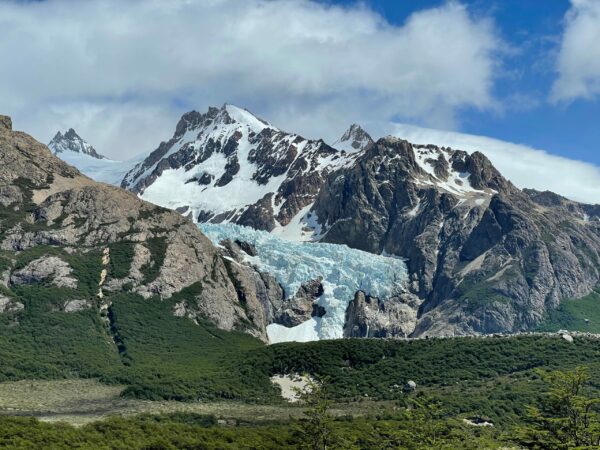 While Patagonia extends far beyond these four areas, they do offer some of the very best experiences and landscapes the massive region has to offer. When booking a trip to Patagonia, it is important to keep in mind that there will be days when some of the stunning landscapes cannot be seen due to cloud cover or inclement weather. Patagonia climate can be finicky and changes often, which is yet another reason to carve out a bit of extra time for your trip and pack lots of layers.
Because both countries have so much to offer—in Patagonia and beyond—it is my personal preference to visit each on separate trips. That way you can add in stops such as the Atacama Desert or Easter Island in Chile, or Mendoza and Iguazu Falls in Argentina. You could easily spend 2-3 weeks in each of these countries and only scratch the surface of what they have to offer.