Myanmar is home to more than 130 different tribes, each possessing their own language, religion and culture. A visit to the Southeast Asian nation will introduce you to a myriad of peoples with different stories to tell and traditions to teach you. From the one-legged rowing techniques of the "alligators" who live on Inle Lake (so nicknamed because they live, work, and farm on the water!) to the color dye work of the Pa O women, I was blessed to witness these ancient traditions and meet with the friendly people who kept them alive.
By far the most inspiring people I met were those of the small Karen hill tribes up in Shan State. While the sprawling temples of Bagan were magical, the stilted houses on Inle Lake were incredible, and the shining splendor of the Shwedagon Pagoda in Yangon was picture perfect, it was the visits with these welcoming and strong-hearted women that made me fall in love with this country.
On a hot August day, my travel partners and I were driven through the winding hillside to a tribe of "Longneck" Karen numbering only a couple hundred people. This animist tribe is formally called the Karen Lahwi, but they are more commonly known for the heavy brass neck rings that are traditionally worn by their women, creating an elongated neck said to bring beauty and pride.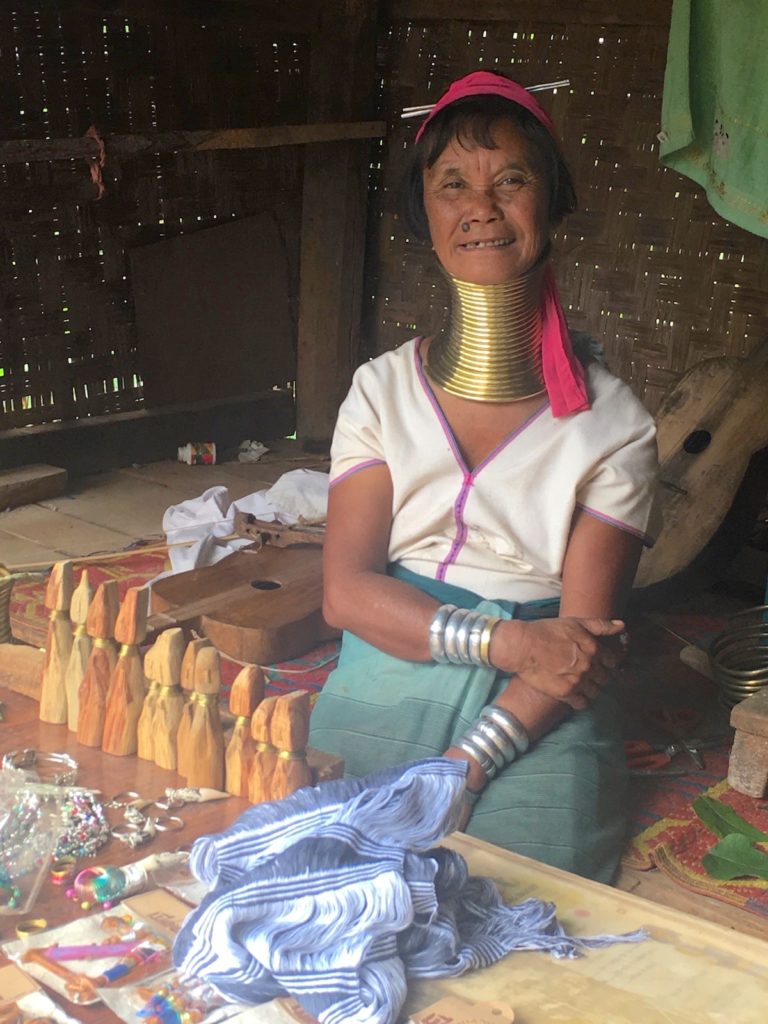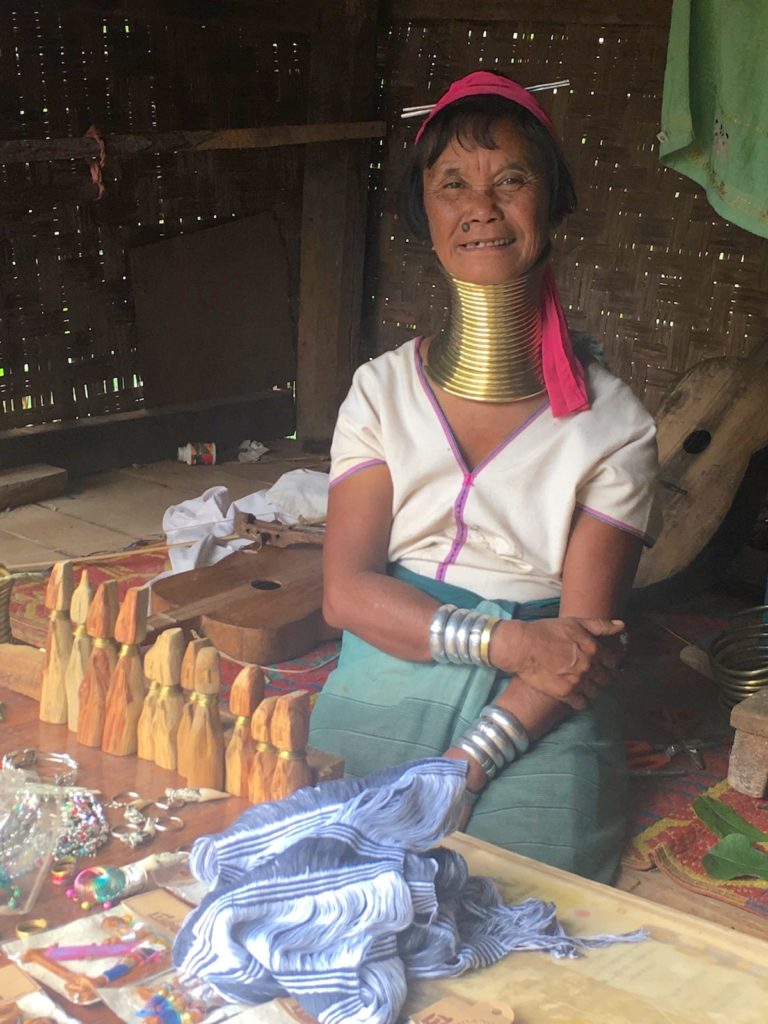 Upon entrance to the village, we were met by the young village head who was to be our guide for the day. It is very important while visiting these small hill tribes to be sure that you are not encroaching on their way of life and instead visiting with them on their own terms – conversing with them as people, not staring and taking pictures as if their lives are simply a tourist attraction. Myanmar has taken good care of these tribal visits by not allowing anyone to simply walk in. Instead, one must go with an official company, book a time slot, and be personally led by a resident of the village.
We first met with Mu Pran, an elderly woman that still wears her brass rings, although the tradition is now dying out with younger generations. We are able to have a conversation with her through our guides. We would ask our main guide, Nyaung Nyaung, our questions in English. He would translate into the common Myanmar national language and ask the village leader, who would in turn translate to the tribal language! Mu Pran told us that her mother used to say the rings were a way to differentiate between men and women, and it is what makes women beautiful and strong. Mu Pran is also a skilled instrumentalist, and played us a few songs on her wooden guitar, and even on a leaf!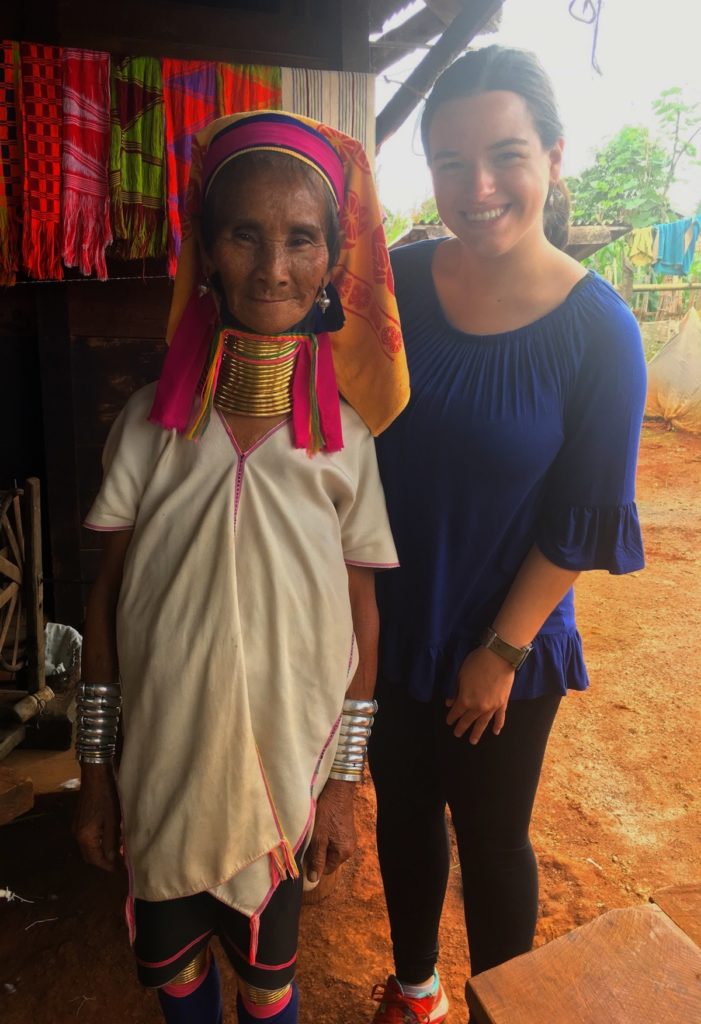 Another elderly woman in the village has decided to take off her rings. Full of sass and vibrancy, she simply told us that they hurt, so she took them off! Her personality knows no bounds as she asked us for a picture and traded hats with our guide. What really struck me about this visit was that, despite what I perceived as potential struggles of their life (they only just got electricity earlier this year), the people of the Karen Lahwi tribe were positive, cheerful, and full of curiosity. Despite the team of translators it took to communicate, these women spoke with us eye to eye, happily taught us how to make thread from cotton and gifted us with bracelets. They complained to us about their grandchildren and shared pieces of jackfruit. In the end, it felt like I was speaking with any other grandmother who just wanted to have a bit of a chat over rice wine!
The next day we visited the Red Karen tribe, so called because of their vibrant red traditional clothing. Similar to the Karen Lahwi, this tribe holds on to animist traditions, meaning they have a village shaman who reads chicken bones to determine the luck for that year in the harvest. Each year they search for the perfect tree to make a totem pole, which they worship and use to pray for prosperity. A lavish ceremony takes place each year upon its placement.
This village was larger than the last and, as our young guide led us through the streets, we came across a family pounding rice to give as an offering to the gods for a good harvest. Despite living a more traditional life, the teenage boys were blasting music from their new stereo and invited us to help them with their task as they asked us about our lives as well. After speaking with the elderly, it was also nice to chat with the young people of these tribes and see how the traditions are evolving.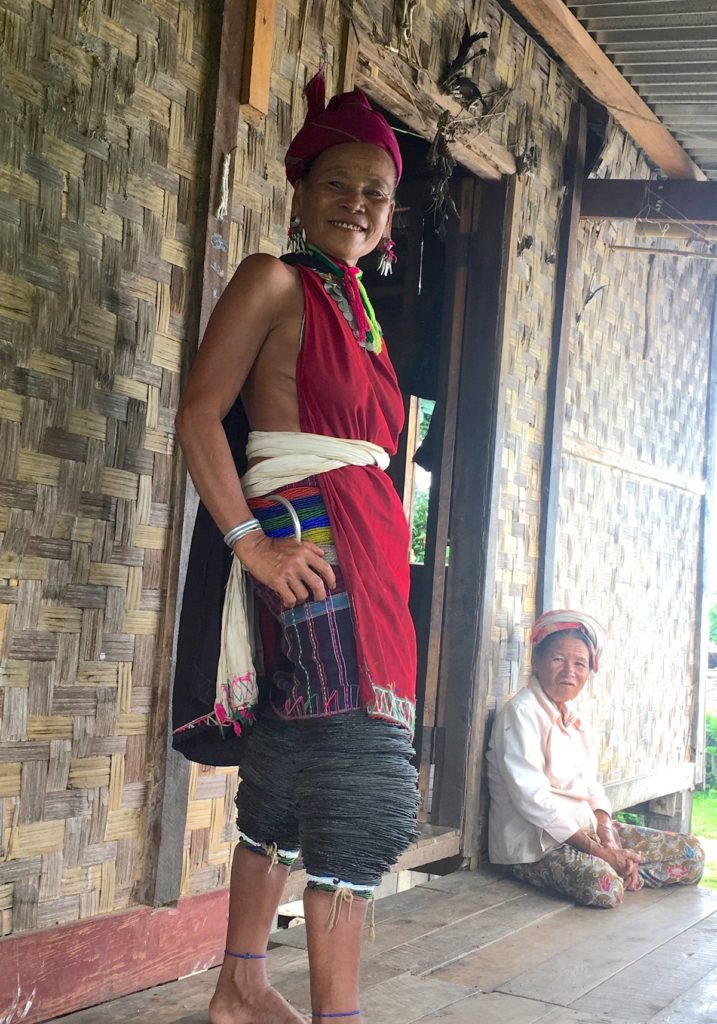 The outfit of the Red Karen women involves dozens of lacquered rings worn around their knees, adding about 20 pounds! While the young people do not wear them, an elderly woman taught us how to make them from cotton and lacquer and joked about how much of a fashionista they made her!
Of course, there are many more stories from my time with the Karen tribes, but I would like to let some of you discover it for yourselves! My trip to Myanmar was my first time in Southeast Asia, and I believe it was a wonderful alternative to the busier tourist nations of Thailand and Vietnam. Myanmar offers stunning natural beauty, amazing cultural education, and a never-ending supply of friendly, caring and helpful people. For those looking for both adventure and inspiration, I recommend visiting the tribes of Myanmar and making memories of a lifetime.