One of the hardest decisions to make when planning a trip to Kenya is narrowing down which areas of the country to visit while on safari. There are so many options, and each offers such unique wildlife experiences. One particular conservancy, Ol Pejeta, is often overlooked when compared to some of the more widely known regions, such as the Masai Mara. However, boasting an abundance of activities that can only be found there, including this conservancy as one of your stops while on safari will make for an unforgettable experience.
Visiting the Northern White Rhinos
Located right on the equator, with scenic views of Mount Kenya and 90,000 acres of land, the Ol Pejeta Conservancy is known to be East Africa's largest sanctuary for black rhinos. With 165 currently living within its borders, these animals are a large part of what makes this area so special. But it is two specific rhinoceros that are a must-visit while in the conservancy—Najin and Fatu—the last remaining Northern White Rhinos in the world.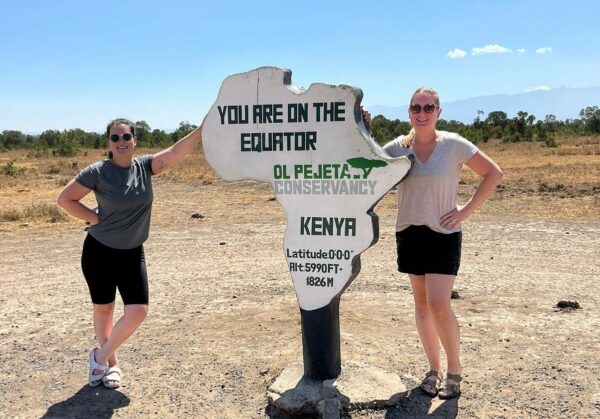 Although the conservancy understandably puts the health and safety of these two rhinos above all else, the amount of interaction you'll have with them is quite amazing. Driving into the 700-acre enclosure with your guide affords you the opportunity to get close enough to feed and touch them, all from the comfort of your vehicle. During your visit, you'll hear the backstory of how these two came to live here, as well as the ongoing potentially species-saving scientific efforts that are currently taking place.
For an even more unique experience, consider signing up for "Ride with Rhinos," an activity that takes you horseback riding through the enclosure. In addition to the two Northern Whites, you'll also encounter other rhino species and plains game, many of which you would not get a chance to see nearly as "up close" while in a vehicle.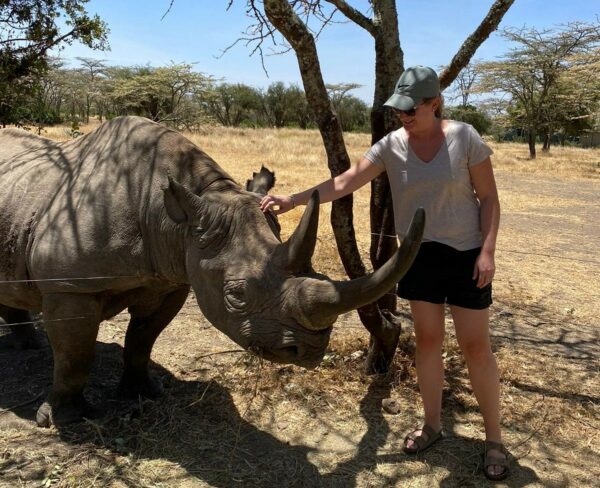 No matter how you choose to see them, interacting with animals that are nearly extinct is a truly emotional experience and should absolutely be included during your time here.
Chimpanzee Sanctuary
Another experience unique to Ol Pejeta is a visit to the Sweetwaters Chimpanzee Sanctuary. Although these apes are not native to Kenya, this sanctuary was founded in 1993 to provide refuge and rehabilitation to those that have been rescued from the black market. Home to 35 chimps, your one-hour visit will include seeing them engage and interact during their feeding time, with the opportunity to ask questions and hear the individual stories of each chimp. Much like with the rhinos, this experience is great for all ages and can easily be incorporated between game drives.
Other Activities
There are a multitude of other activities to consider while visiting Ol Pejeta. Interested in learning more about how the rangers on the conservancy keep many of its resident animals safe? Sign up for a morning of lion tracking or follow a canine unit as they track. Are you more inclined to get your heartrate up? Consider going for a jog with the park rangers via the "Run the Wild" program, which takes you on a 5-7km route through the conservancy. Want to learn more about how the locals live? Spend an afternoon visiting one of the nearby communities or schools. You can also enjoy the more traditional game drives, with the possibility of spotting some of the conservancy's rhino and even lions. With so much to do, your only "homework" required before visiting Ol Pejeta is figuring out how to pack it all in!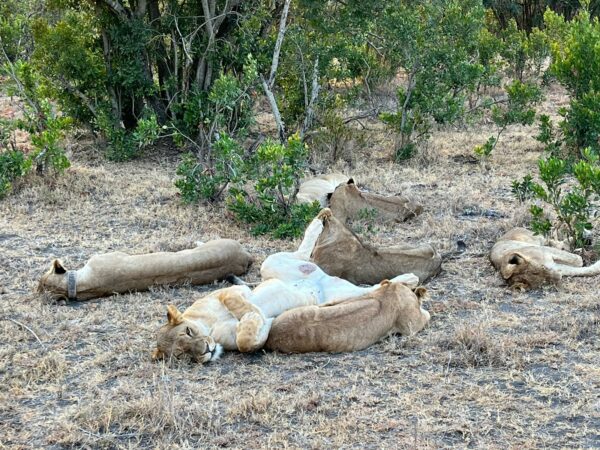 Lodging
With nine camps and lodges to choose from, there is something for everyone's tastes. The conservancy's newest camp, Sanctuary Tambarare Camp, offers a five-star experience and can coordinate any of the aforementioned activities into your daily schedule. While here, you can expect excellent service and attention to detail, along with (in my experience) some of the best food of your trip!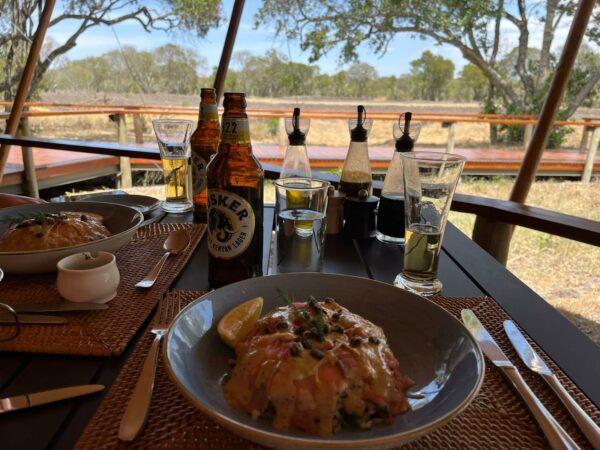 The Ol Pejeta Conservancy has so many incredible activities to choose from. While my time spent here was short and sweet, I look forward to returning someday and partaking in more of these options that can't be found anywhere else.