It had been pitch black for hours as I patiently waited for the sun to appear. For a rising sun meant I was almost to the top, the top of the mountain. As I stopped for a drink of water, my guide told me to turn around. Moving slowly to keep my balance while at approximately 18,000 feet, there it was, a red beam of light climbing above the horizon. The sun was coming up in the most vibrant way it possibly could. The entire sky quickly turned bright red and orange in true "Lion King" fashion. I have seen many beautiful sunrises in my life, but this one was much more magical. I felt as if I were the only person witnessing this moment, as if time were standing still. It was truly breathtaking.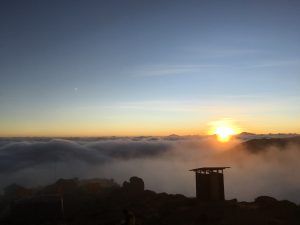 In September 2019, I embarked on a journey to conquer my first mountain of the "seven summits," Mt. Kilimanjaro! While I made it to the summit and back down, there were months of preparation leading up to the expedition and many factors that both aided and hindered my success: health, climate and altitude. Here are some tips to help you prepare for the adventure ahead!
Preparation
Hiking Kilimanjaro is no easy task. The best way to prepare is to get in shape, because the more "fit" you are, the more red blood cells you will have in your system. Red blood cells carry oxygen, and extra oxygen-rich blood cells will greatly help with acclimatization. So, establish an exercise program and stick to it! I started my training 5 months prior to the hike, but this can be reduced if you are committed to your workout plan. Some exercises that helped get me into shape are: cardio, core, lower body strength, upper body strength, swimming, cycling, yoga, hiking and rock climbing/bouldering.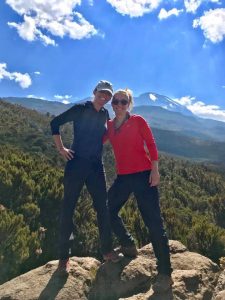 Do your research by reading blogs and watching online videos of other hikers' experiences. This will help prepare you mentally for the terrain and climate to come. Keep in mind the time of year you will be hiking, as the weather can change drastically depending on the month. If someone is hiking in April, it will be a completely different season compared to someone's experience in September!
Additionally, there are more than 6 major trails leading up to the summit. Talk to your travel consultant in order to choose a route best suited for your capabilities.
Packing
Packing appropriately is also very important. A packing list will be provided to you, and I recommend you follow it strictly, as everything itemized has a place and purpose. Make sure your gear is durable and that anything newly purchased is both recommended and of high quality. For example, your outer down jacket must be adequate enough to keep you warm on summit day. I hiked at the end of September, and it was approximately zero degrees Fahrenheit at the top of Kilimanjaro!
Double check that you have sturdy hiking boots. There is always a chance of inclement weather during your hike, so they need to be waterproof! Quality gaiters will also help keep you dry.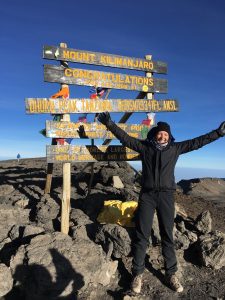 Hiking poles are a must, especially when coming down the mountain. They will help with balance, provide extra support and minimize joint pain by lessening the impact of each step. Note you will be descending quickly, much faster than it took to hike up.
Rest assured, your guide will go through all of your gear the night prior to ensure there is nothing essential you are missing. If you have forgotten anything from their checklist, you can rent gear from them.
Altitude
Kilimanjaro is the highest mountain in Africa, standing at 19,340 feet. This is much higher than the average individual has gone before. So, know the side effects of altitude and be prepared with the proper medication to help with sickness.
Because altitude effects everyone differently, you must always be honest about how you are feeling while on the mountain. Your guides cannot help you if they don't know your symptoms, so check your ego at the door! If you wait too long to express any ailments, it may be too late to intervene. The end result will be you having to go down the mountain or be evacuated.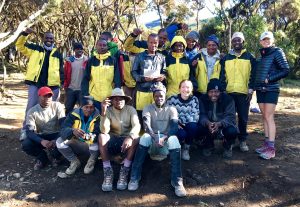 Polepole (slowly slowly in Swahili)! Hiking very slowly will help your body adjust to the altitude. Your guides will set the pace, so do not try to rush. Your destination is ahead, and you will get there when you get there.
After taking in the sunrise, I slowly turned around to continue up the mountain and finally, I was able to see the top! Another 20 minutes and I was there, taking in the feeling of accomplishment, taking in each breath slowly and purposefully, taking in the beautiful view. I rejoiced with my guides; we'd made it! We hugged, we danced, we cried, we cheered. It was such a fulfilling feeling and one I will never forget.