Gazing up into the night sky and witnessing billions of stars twinkling overhead, hearing lions hunt and take down a kill, smelling the various scents that mingle on the African breeze; these are just a few of the sensations that flood your senses when you choose the unique experience of an outdoor sleepout. For those interested in forgoing the standard safari lodging in the name of  additional adventure, many properties offer sleepout options.  Whether you are traveling to East or Southern Africa,  the camps bring a new excitement to sleeping under the stars, tantalizing  your senses, and connecting you to the wilderness of Africa.
Kenya
Serian's The Nest
Serian camps are a staff favorite, located in prime areas within Kenya and Tanzania. Their properties are known to evoke a peaceful, calm and serene feeling, while their tents highlight an elegantly simplistic design, filled with personal touches that make it feel like home. Nestled in the private Mara North Conservancy in Kenya, Serian the Original and Ngare Serian offer something out of childhood dreams– sleeping in a treehouse! Located about a 20-minute bush walk from Serian the Original and Ngare, the Nest can be booked for a romantic night under the stars or as a destination for a picnic lunch or dinner.
Perched out on a limb in a lone Warburgia tree overlooking the Mara River, The Nest houses a covered double bed, outdoor daybed, bathroom and 360-degree views of the surrounding bush. At night, the covered bedroom zips up to keep the bugs out but still maintains the true treehouse feel with many windows through which the night noises flow. For a little more adventure, you can opt to sleep on the uncovered daybed and take in a true outdoor sleeping experience. When you wake up in the morning, we guarantee that it will have been a night not soon forgotten.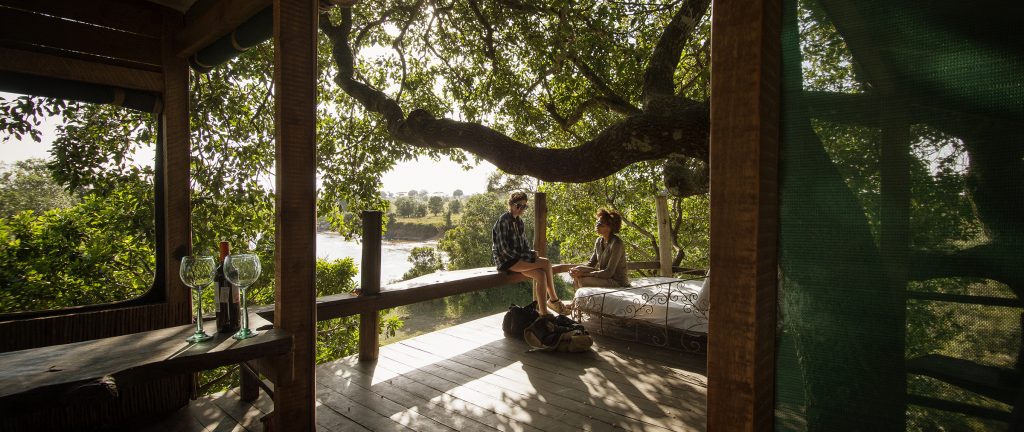 Loisaba Starbeds
Loisaba is a 57,000 acre wildlife conservancy located in Laikipia, Northern Kenya. An important migration corridor, the conservancy boasts abundant wildlife along with beautiful accommodations and adventurous activities for the safari goer. The Starbeds are perfectly placed in between Loisaba Tented Camp and Loisaba Lodo Springs. If staying at either camp, we suggest spending one of those nights at the Starbeds.
Upon arrival, a team of traditional Samburu & Laikipia Maasai warriors welcome you with their customary warm African hospitality. Each thatched-roof room offers sweeping views of the kopjes, the valley and a permanent waterhole often frequented by resident wildlife. Rustically designed to complement the surrounding environment, the rooms boast a private sitting area, open plan bathroom and a large balcony, which extends outward. The Starbed can either sit under the balcony's thatched-roof or be wheeled out to rest under the night sky. Awake early to enjoy the rising sun from your Starbed, as a new day full of adventure awaits.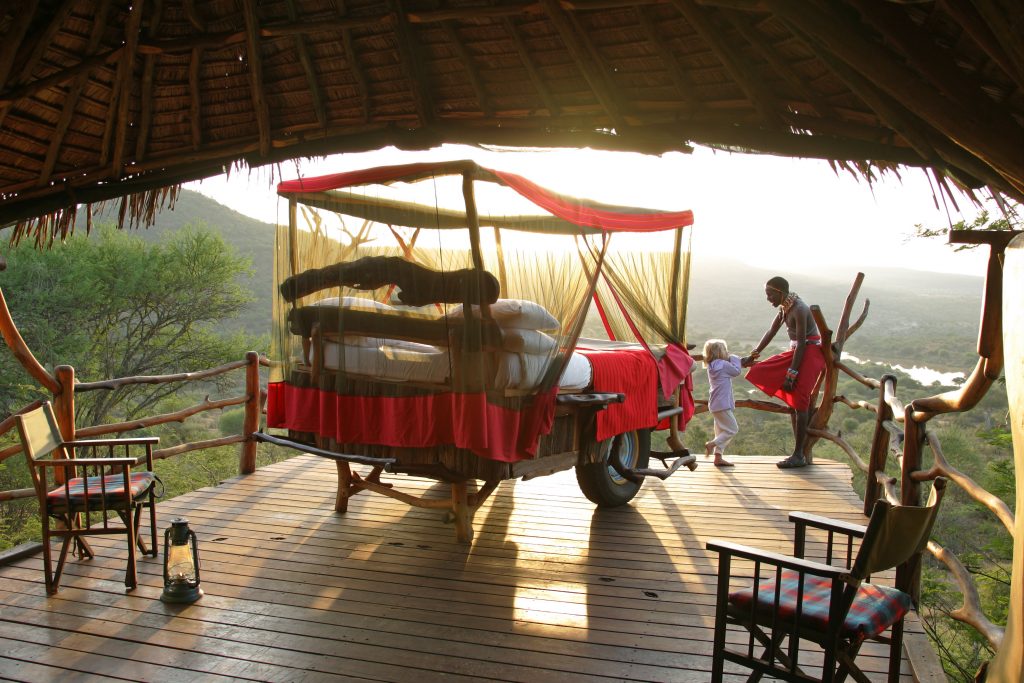 Ol Donyo (Roof sleepout)
Boasting one of the most dramatic settings in Africa, the Chyulu Hills is a sight to behold. With views of Kilimanjaro serving as a backdrop, this private conservancy is approximately 275,000 acres, affording you space and exclusivity. Situated between Tsavo West and Amboseli National Parks, this area serves as the corridor between the two areas with exceptional opportunity for wildlife viewing, active safaris and a unique sleepout experience.
Each luxury villa has a roof-top bed with netting to allow for an "under the stars" experience that will bring you closer to nature. You will hear all the sounds of the African night from lions calling in the distance to elephants quietly foraging. One of the best elements of this sleepout is that if you "change your mind" in the middle of the night, you can simply walk down a flight of stairs and retreat into the comfort of your luxury villa. It remains one of my favorite sleepout experiences in Kenya.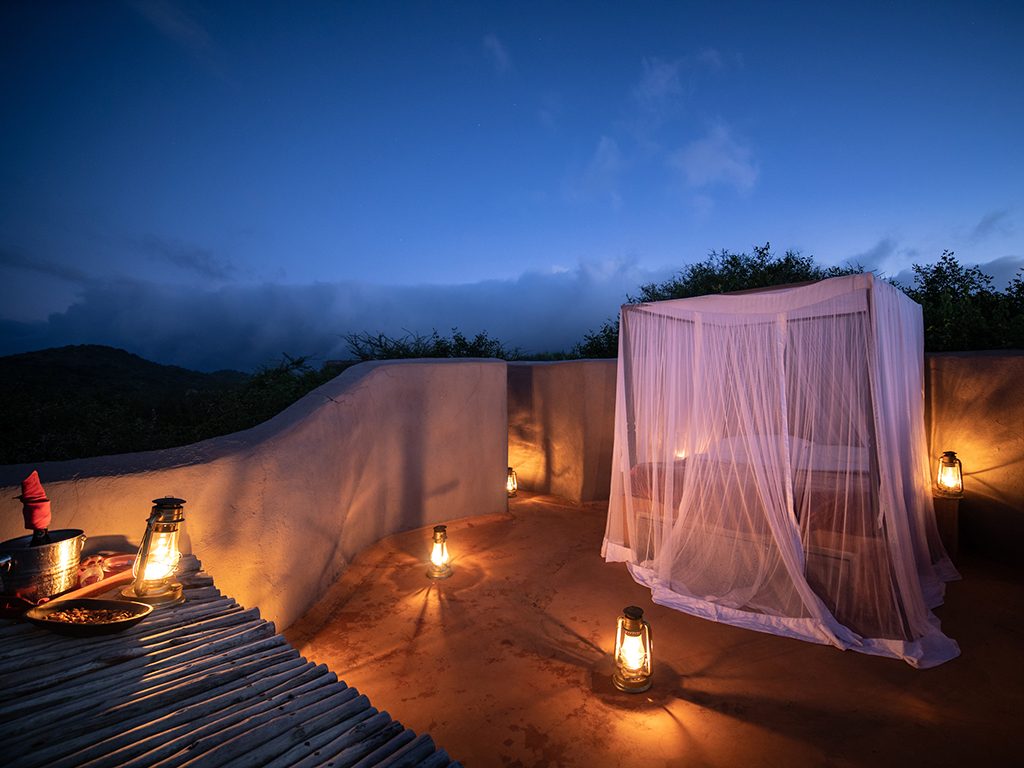 South Africa
Tswalu (Malori sleep out)
I took a trip to South Africa in 2014 with my two young boys and my wife who was, at the time, 6 months pregnant with our daughter. It was an incredible family safari highlighted by a 3-night stay at Tswalu. A unique destination and a stark contrast to the rest of the circuit in South Africa, Tswalu remains one of my favorite safari destinations in South Africa. The sense of space and vastness is unique in a country that has a relatively higher density population.
While my boys don't recall much in terms of accommodations, the people and experiences they enjoyed on the trip are cemented in their memories forever. And this includes  Tswalu's Malori sleep-out (a highlight for us parents too). The property has set up a beautiful platform in the middle of "nowhere," on land designated as non-predatory, so you are safe from all the dangerous beasties. You arrive post afternoon game drive just as the staff are setting up a private dinner. It's got all the creature comforts you could ask for and waking up to the sunrise and wildlife on the horizon is pure magic. Winter months can be very cold, but I'd still give it a go! It's a wonderful and memorable experience.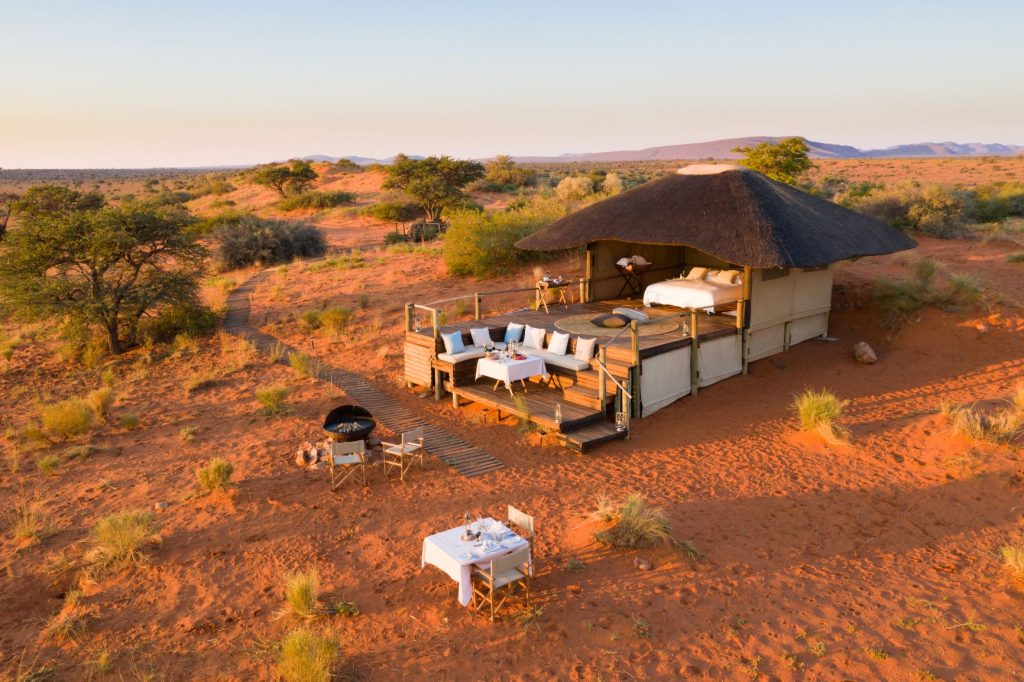 Botswana
Jack's/San Camp (Salt Pans sleepout)
My first trip to Africa was back in 2001. I visited Botswana as a part of a university trip to learn about environmental science and policy. During this trip, we hired the services of legendary guide Super Sande, from Jack's Camp, to take us by quad bikes into the middle of the Makgadikgadi Salt Pans for a sleep out. This chain of pans is the largest in the world and approximately the size of Switzerland, the country where, coincidentally, I was attending university.
A sleepout in the Makgadikgadi is likened to a spiritual experience. In fact, it was this night, under a sky packed with stars from horizon to horizon, that I realized my love for Africa. Void of all noise and light pollution, the silence was deafening, and the enormity of the universe was on full display. This experience not only remains my favorite sleep out in Africa, but perhaps my top experience on the continent.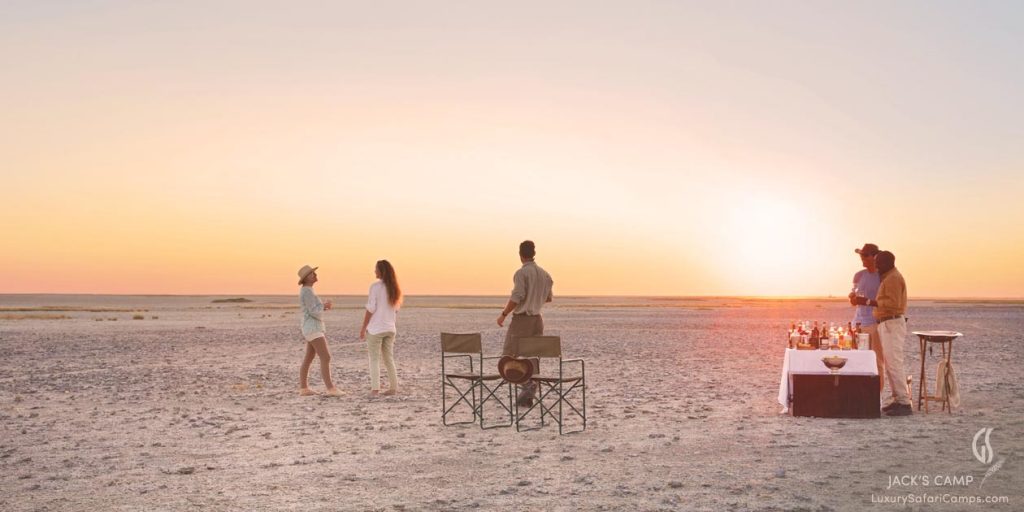 Baines Camp (Deck sleepout)
The Okavango Delta is one of the most pristine natural environments for a safari. Surrounded by the sounds of water, Baines Camp offers a unique sleepout experience. Each of the rooms boast a large wooden deck which serves as a platform for your "bed on wheels." Should you feel so inclined, you can roll it out of the main bedroom and onto this deck. With the comfort of your room just behind you, you can enjoy the sounds, stars and the magic of the African night.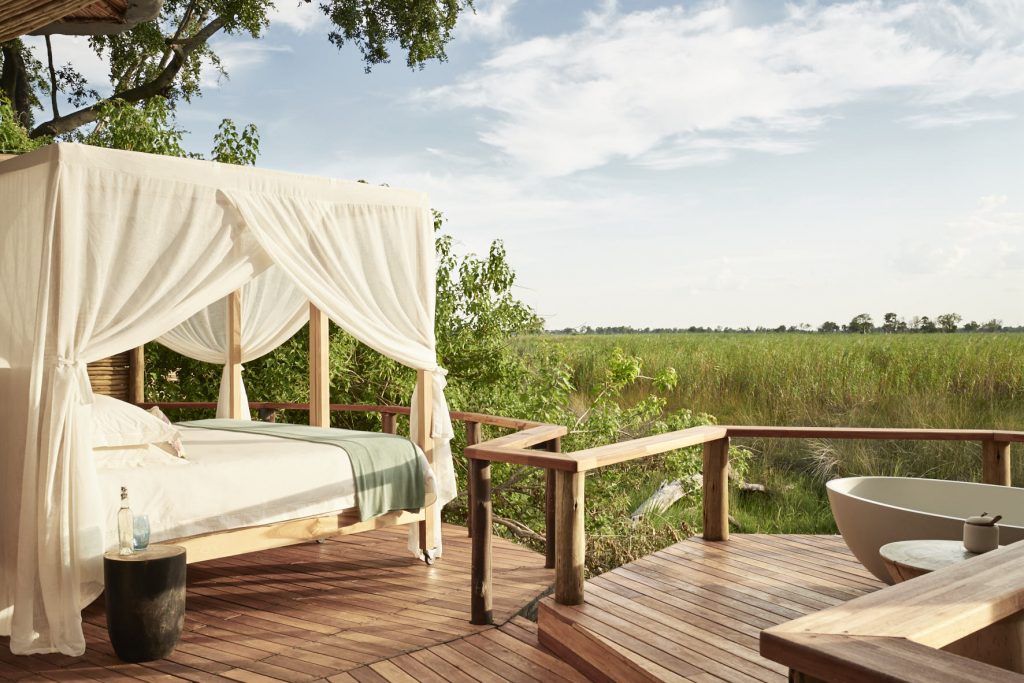 Uncharted Mobile Camp
It can be hard to find the right words when trying to articulate what the Uncharted Mobile Camp experience is like, but I will give it a try.
I will admit that, at first, I was a bit hesitant to try this experience. Not only was it slightly out of my comfort zone, I also assumed it would be more like the camping trips I had done in the past. But I could not have been more mistaken.
Not only was I able to stand up in my tent, but  it had a real bed, along with all of the bathroom amenities a hotel or upscale lodge would offer (shampoo, lotion, etc). Each tent has an en-suite bathroom, just off the back of the tent, complete with a flush toilet and bucket shower – but note even though you have walls around the bathroom, you are showering under the open skies. The main area (mess tent) provides a comfortable space to relax and, if you have time, has board games you can play. And the food! It is the best I have ever had while on safari. Being a mobile camp, without ovens, I still can't figure out how they prepared the lasagna, filet mignon
The real reason you book this journey is, however, for the remoteness, wildlife, and privacy. These journeys are reserved on a private basis – 2-person min/14 maximum.  They are for your party only and are a 3-night minimum (but do consider asking for more nights)! You stay in the famed Okavango Delta and on private property, which allows activities to be varied and all with a highly experienced private safari guide. Game drives, night drives, walks, boating and  mokoros (water dependent) are the main activities, but I also highly recommend that everyone book a scenic helicopter flight over the Delta. Request this to be done without the doors, as it adds to the feeling of freedom (helicopter is additional cost). Your days will be filled with wildlife and your evenings  with stories shared around the fire.
The icing on the cake is the one night of fly camping on a private island. Dinner is  cooked on the fire and as the sun goes down, the lanterns  are lit, and your sleeping areas are prepared. You find yourself on a simple bedroll, mosquito net surrounding you, looking up to a sky full of stars. Your senses  awaken as you hear the many frogs singing and the lazy walk of the hippos as they venture onto the island to  graze.  Do not worry, you are perfectly safe!
There is no Wi-Fi, cell service (the camp host has a satellite phone for emergencies) or pool on this trip. So, it is truly like stepping back in time
Book it, trust me!