When my manager first called to ask if I wanted to host a select group of travelers on a safari to Tanzania right now, I could not believe my luck and could hardly control my enthusiasm! Here we were, with the clock slowly ticking down towards the end of 2020 without any travel adventures yet this year, and my feet were restless. I was ready to explore the world once more.
Travel has always been an important part of my life. I have found that travel is good for the soul, and travel to Africa for me is rejuvenating and renewing, allowing me to reconnect with nature and escape from the noise of everyday life. What always strikes me about Africa is the serenity that you feel watching nature unfold each day, whether it is the small gestures like a lion cub playing or grooming very much like your house cats at home, or an elephant matriarch shielding her baby from outside dangers, or floating above the Serengeti plains in the crisp morning air at the slow pace of a hot air balloon watching animals awaken. Fresh air, wide open spaces, incredible natural beauty every way you turn, and warm people who always welcome visitors with open arms and huge smiles — what's not to like about a trip to Africa!
I've been on enough safaris that I knew this would be the perfect type of trip to enjoy right now, with wide open spaces and most of your time spent outdoors in nature. I could not think of a better place to be as we navigate the new travel landscape these days! I did have a brief moment of pause when thinking about getting on an airplane for such a long journey, as I am guessing that many of you might also be thinking right now too. I then read several reports describing the advanced technology of air filtering used on aircraft these days, with cabin air exchanged every 2 minutes and the use of hospital grade HEPA filters, and I was immediately put at ease and ready to start packing the next day!
After that, I started to prep for this safari trip like any other. I may have removed a shirt or two to make room in my bag for some extra hand sanitizer and masks, but otherwise proceeded to pack as usual.
People have asked what it was like to travel right now, and my answer is simple: it was very easy. There are a few new protocols in place, but I found that you quickly got into this new rhythm and didn't even notice the extra steps of hand washing and temperature-taking after the first day or two. When entry restrictions were in place earlier this year, all properties throughout East Africa focused their time and energy on developing new health and safety protocols such as conducting temperature checks and new hand washing routines on arrival, having sanitizer readily available everywhere, enforcing mask wearing by camp staff, and so on.
Everything on my recent trip was spot-on and I felt very comfortable everywhere. The key thing to remember about safari trips in general is that almost all of your time is spent outdoors in nature viewing wildlife, in wide open spaces. Meals are being served at your own private table, and many dining rooms are also open-air as well. In fact, the only time that you are indoors is inside your own room or tent. I truly cannot think of a more perfect travel scenario than a safari right now!
Airports and airplanes have been relatively empty these days, and on my trip I often had an entire row to myself for most of my flights. One of the new trip preparation tips that I will now share with my clients is to test out a few different mask types for your plane rides to make sure you are comfortable. I personally brought a variety of masks with me, both disposable surgical ones (required on internal light aircraft flights) and multiple cloth reusable ones. It turned out that my favorite was purchased when I got there, a colorful local mask made by Masai ladies, who had ingeniously sewn in a straightened paper clip as a nose clip, and which was both practical and comfortable!
Arusha and Tarangire
Our first night was spent in Arusha, at the stunning Legendary Lodge. This boutique property of just 12 cottages is located in a lush garden setting just outside of town and is the perfect place to start off your trip.
The next morning, we headed to the nearby Arusha Airport for our shared light aircraft flight to the picturesque Tarangire National Park. This is one of my favorite parks in Tanzania, with its gently rolling hills, stunning baobab trees and excellent game-viewing, including an especially strong elephant population. We enjoyed a 2-night stay at the beautiful Lemala Mpingo Ridge, centrally located within the park, high on a ridge with sweeping views. This 2-year-old lodge has an impressive lounge and dining area with plenty of seating areas, indoor and outdoor dining, a fire pit and an infinity pool, offering plenty of space for social distancing. Rooms here are quite large as well, with indoor and outdoor showers and bathtubs and large deck with a daybed so that you can relax and take in the expansive views.
Wildlife viewing in Tarangire does not disappoint, and it was incredibly exciting to be back out on safari once again! We started off with a bang, and on our drive from the airstrip to camp we quickly saw zebra, wildebeest, elephant, baboons, Vervet monkey, and plenty of birdlife! On additional drives, we were treated to more excellent sightings, including a huge herd of 50 buffalo and a memorable encounter with a herd of elephant when the matriarch charged us as we were driving past, while she was protecting her family during their mud-bath. It seems that our return to safari after a long absence was off to an excellent start!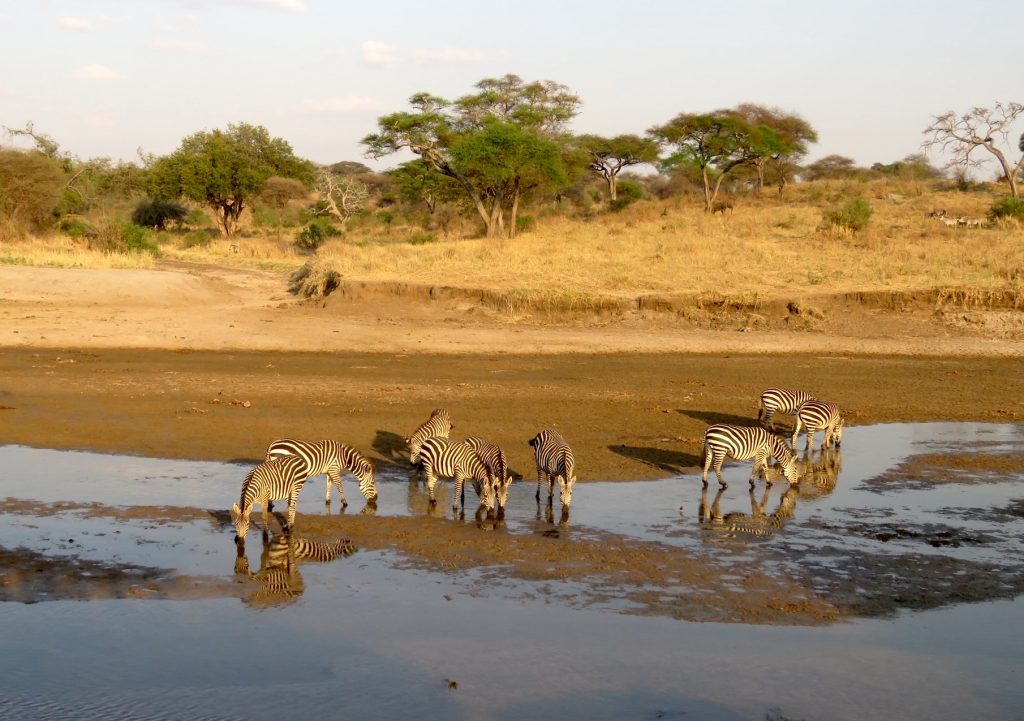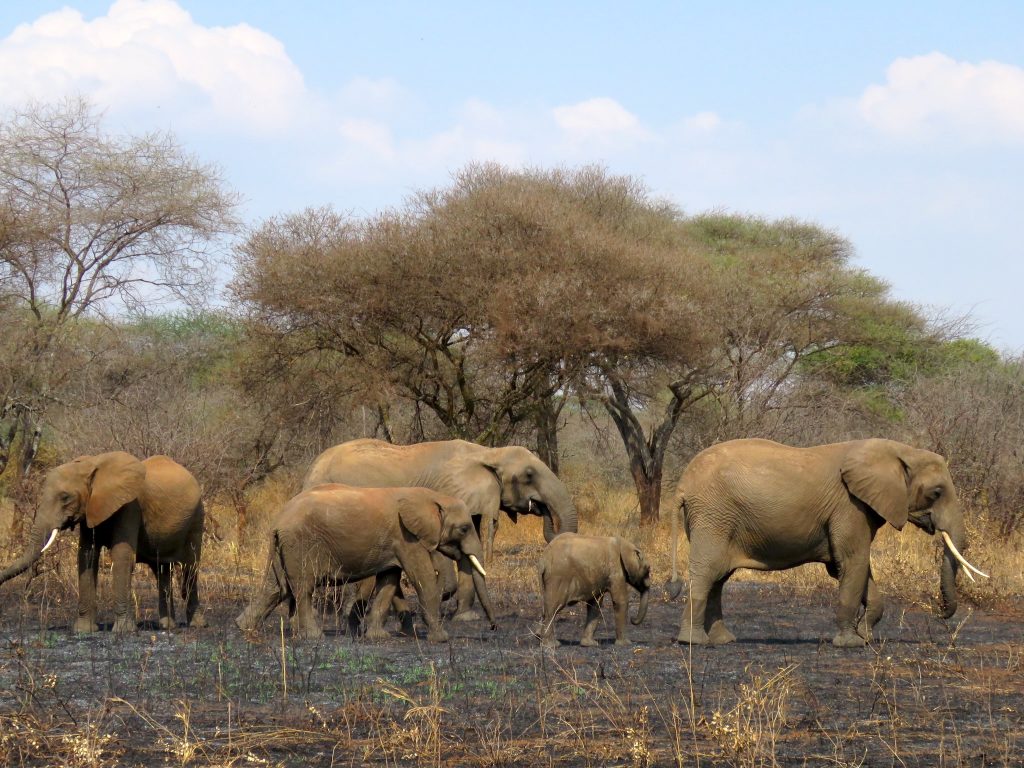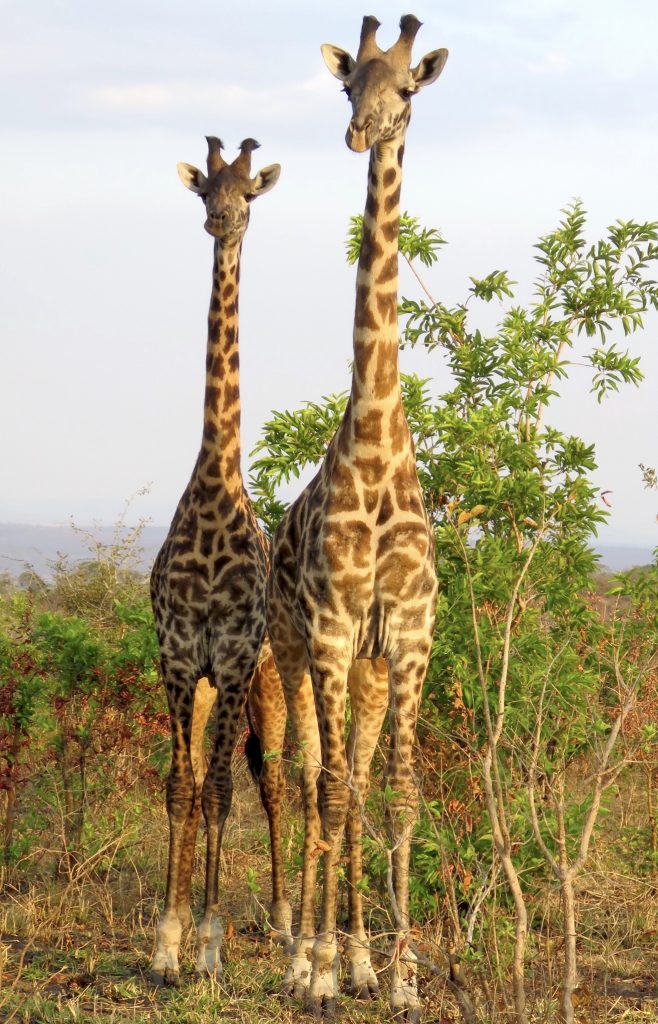 Ngorongoro Crater
Our next stop was the Ngorongoro Crater, truly one of the natural wonders of the world. An extinct volcano that is the largest caldera in the world, it is home to over 25,000 animals. The Crater is a very popular safari stop, and often you must share your wildlife sightings with tons of other vehicles. Imagine having the opportunity to visit this incredible site with hardly any other travelers around, as we did, when the highest numbers of vehicles that we counted was only 12 others, compared with the more typical 50 or so. At just under 12 miles in diameter, the Crater is small enough to visit in just one day, and you can see a wide array of different animals during your visit, from flamingoes at the shallow soda lake to hippos at the hippo pool, as well as Grants gazelle, wildebeest, zebra, warthog, hyena, ostrich, buffalo and more. I especially loved our encounter with some curious baby jackals that were only about one month old, and thoroughly enjoyed our surprise picnic lunch in a private area — what a special treat!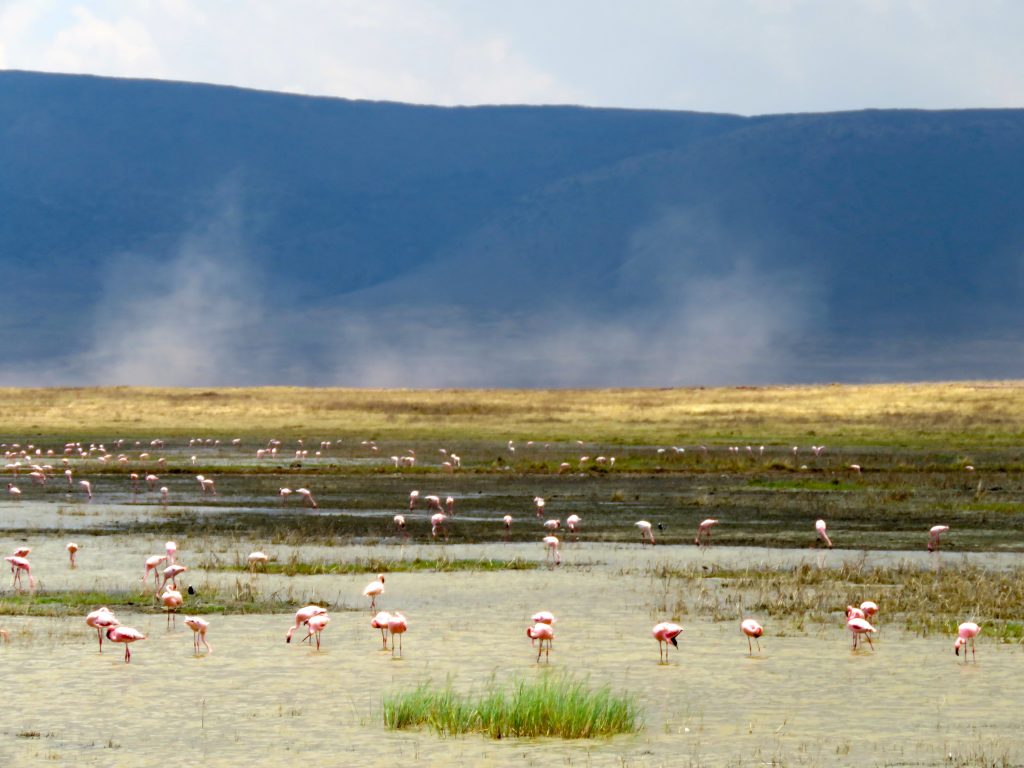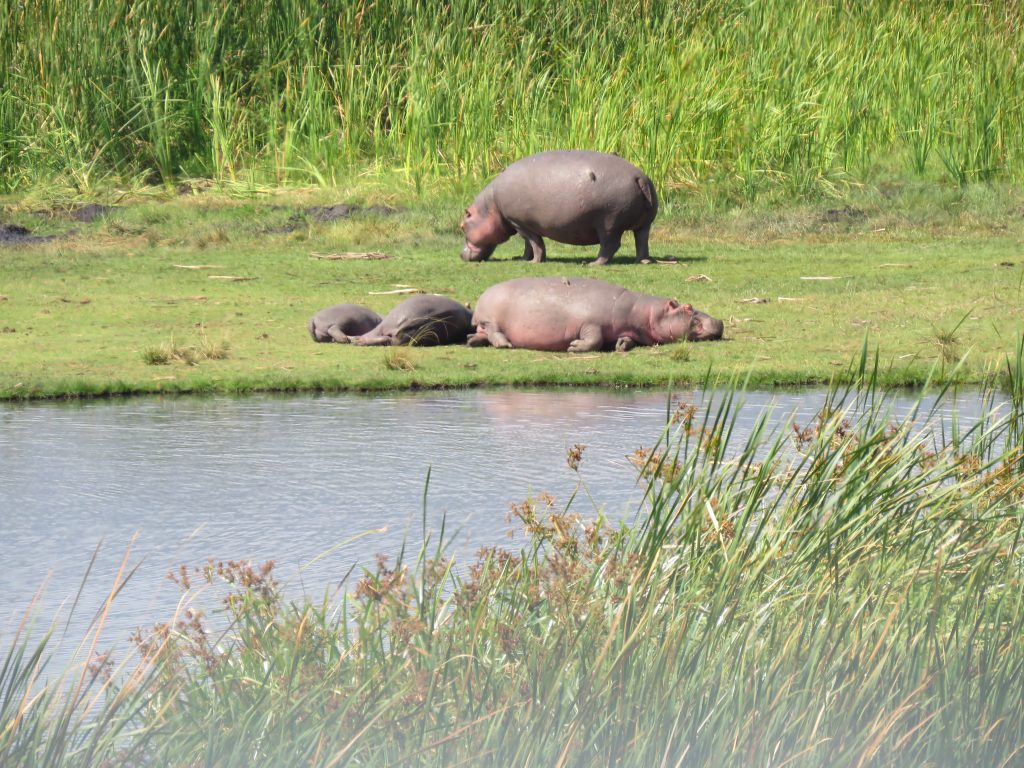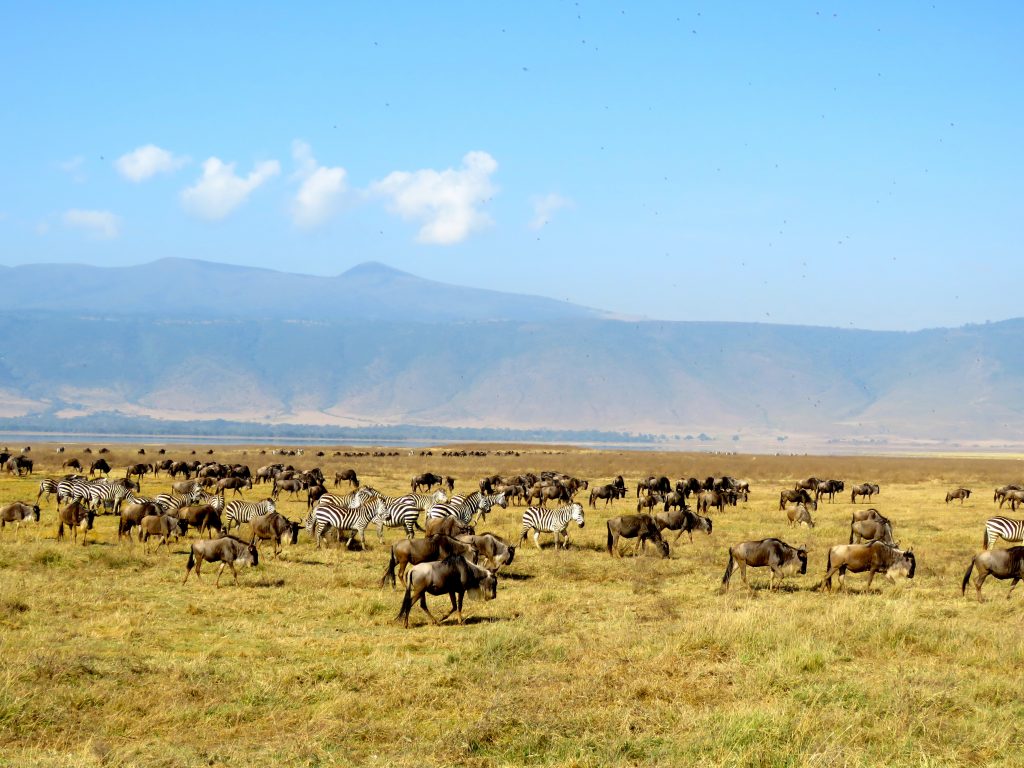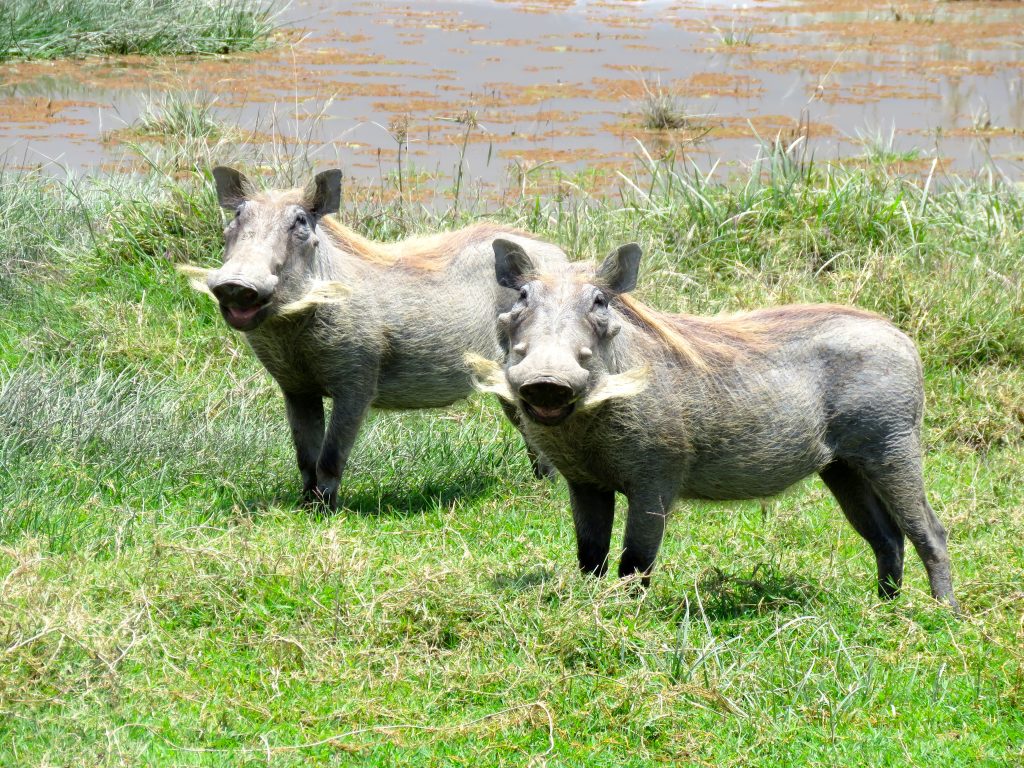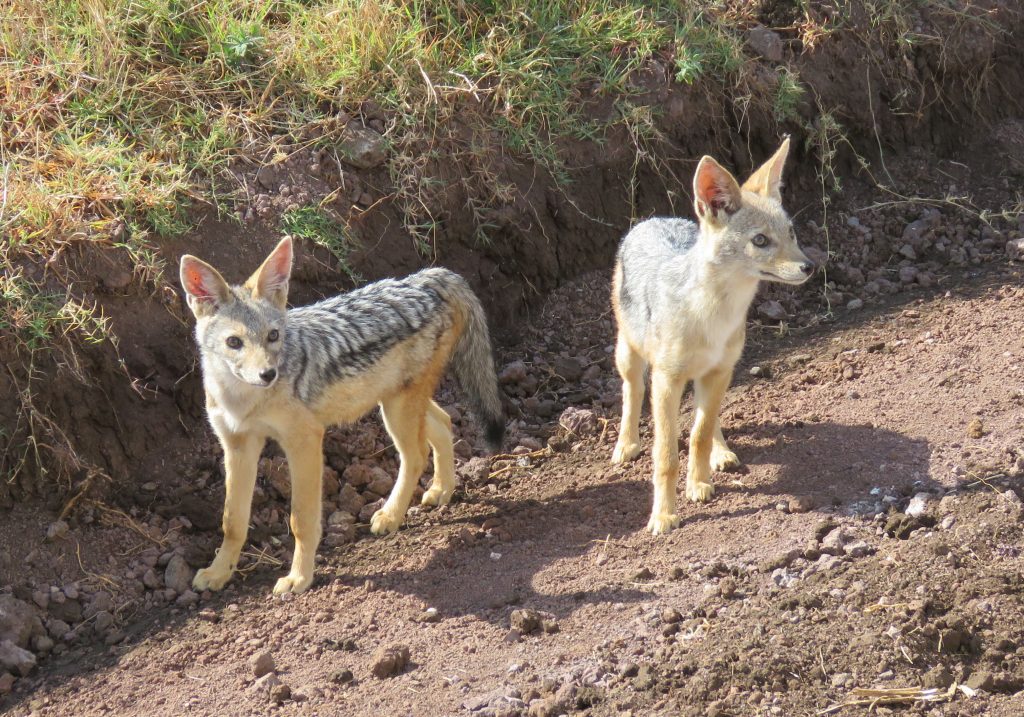 While visiting the Crater, we were lucky enough to experience two very different properties during our stay. Our first night was spent at the lovely Sanctuary Ngorongoro Crater Camp, perfectly positioned in the forested highlands on the eastern side of the Crater, near to the Lemala access road. One of the big advantages of staying here is the ability to depart in the very early morning, as soon as the park opens at 0600am, ahead of the usual crowds! These well-appointed tents offered many nice touches including USB charging from your bedside table, along with the most welcome surprise that I have ever had on safari, an electric blanket to ward off the cold at night, which is especially appreciated at the Crater rim's elevation of 7500 feet, which makes for some chilly nights!
Following our exploration of the Crater, we spent our second night on the western rim at Nomad Entamanu Private Camp. This intimate 4-room camp is especially designed for a small group of family and friends to take over exclusively. What I loved about this camp was the long list of available explorations in addition to your game drive into the Crater, including numerous guided hikes lasting anywhere from 2 to 6 hours, along with opportunities to interact with the local Masai community. We were lucky enough to have a wonderful surprise after our short hike, when some members of the local Masai honored us with a visit at sundown with singing and dancing and a question and answer session to learn more about their culture from one of their elders.
Serengeti
Our next stop was the famed Serengeti plains. Our timing was perfect, as we arrived here during the most exciting part of the annual Great Migration, when millions of wildebeest, in addition to zebra, decide to cross the Mara River in search of lush grasses to graze on the other side. Incredible numbers of wildebeest gather at the river, and a few brave ones might place one hoof in the water, but they often turn back. Finally, one fearless leader suddenly decides that it is time to brave the crossing, and thousands followed in a frenzy that was unlike anything that I have ever seen! We sat mesmerized for over an hour as wildebeest kept coming and coming, perhaps up to 10,000 of them. Words cannot adequately describe the experience of witnessing a river crossing, but I will share a few that immediately come to mind: powerful, intense, emotional. I feel extremely lucky to have had the chance to experience this amazing annual phenomenon for the first time!
View this post on Instagram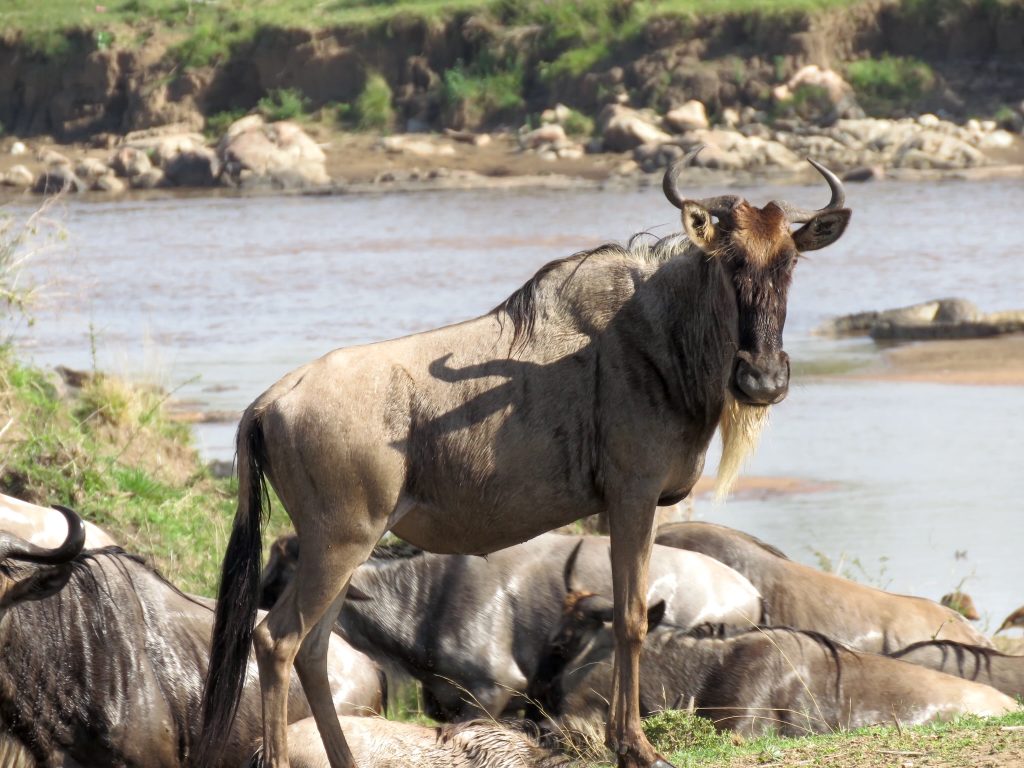 Another first for me was our hot air balloon excursion. Floating over the Serengeti in the early morning hours was the very best way to start the day…even better than coffee!
In addition to spending time near the river observing the wildebeest, we were treated to many other wonderful sightings in the Serengeti, including a memorable afternoon spent following a stunning female leopard as she was surveying her territory from high on a rocky kopje.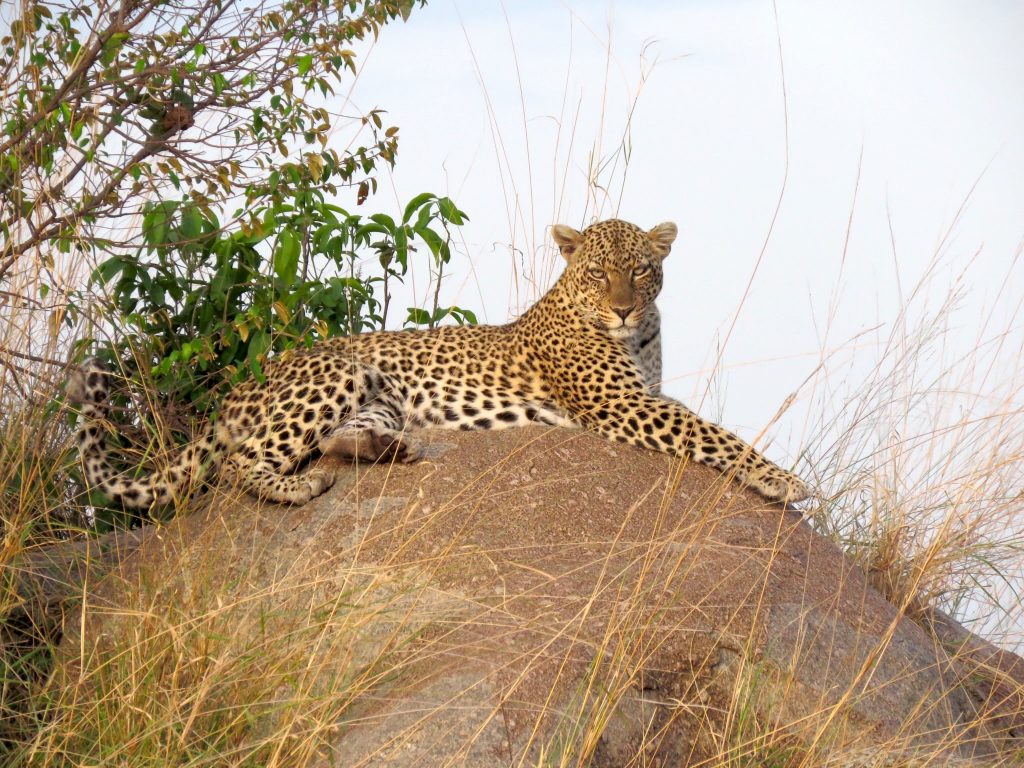 Singita Grumeti Reserve
There were more big cat encounters awaiting us at our final safari stop, the Singita Grumeti Reserve! This private 350,000-acre reserve offers very productive wildlife viewing, and since it is only for guests of Singita you will find the sense of privacy and space here unparalleled. Singita offers so many camp and lodge options that it is impossible to choose a favorite: the newly rebuilt Sabora nestled in the plains; Faru Faru overlooking the Grumeti River; the elegant Sasakwa sitting high on a hill with commanding views; a return to the true essence of safari at the classic Explore Camp; or the private Serengeti House which is booked exclusively for your group of family or friends sharing.
Our first afternoon game drive was spent gazing at a beautiful female cheetah, a very special treat and the first cheetah that we had seen on this safari. We then enjoyed time with a family of lions, including some inquisitive young males who were as interested in observing us as we were in observing them. The next two days also featured plenty of big cats as well! We started off catching a glimpse of a stunning adult male lion, and then rounded a bend to find a female and her cubs. There were several more lion encounters, including three photogenic male brothers with one female. Upon closer examination, we saw that the female had on a tracking collar. This had been placed on her several years earlier, but the research project had ended and they had lost track of here. No one had seen her for some time, so this was an exciting and fortuitous sighting and we quickly reported her location. Later that day we were happy to hear the news that the vet had successfully removed the collar, so all was well and she could go on living here left unencumbered!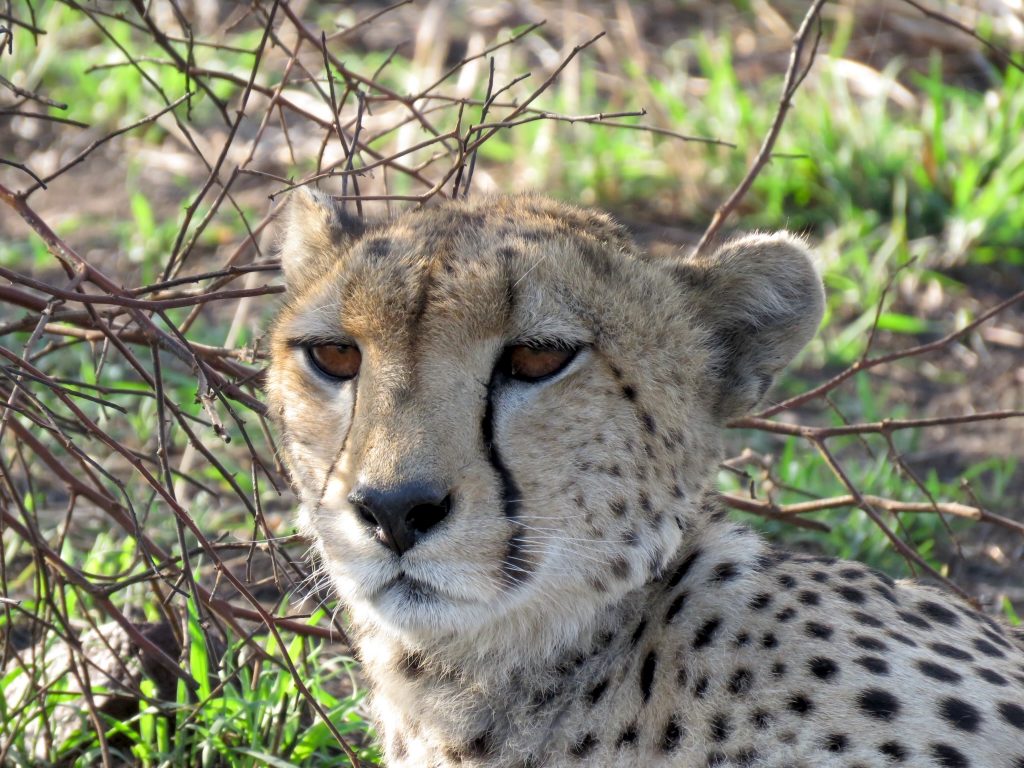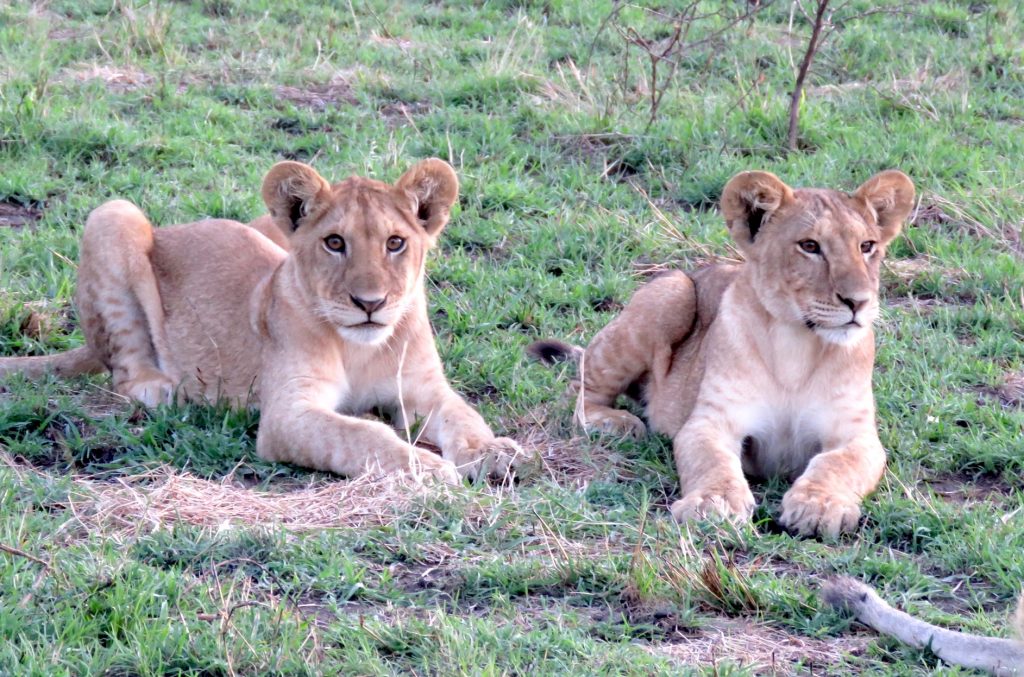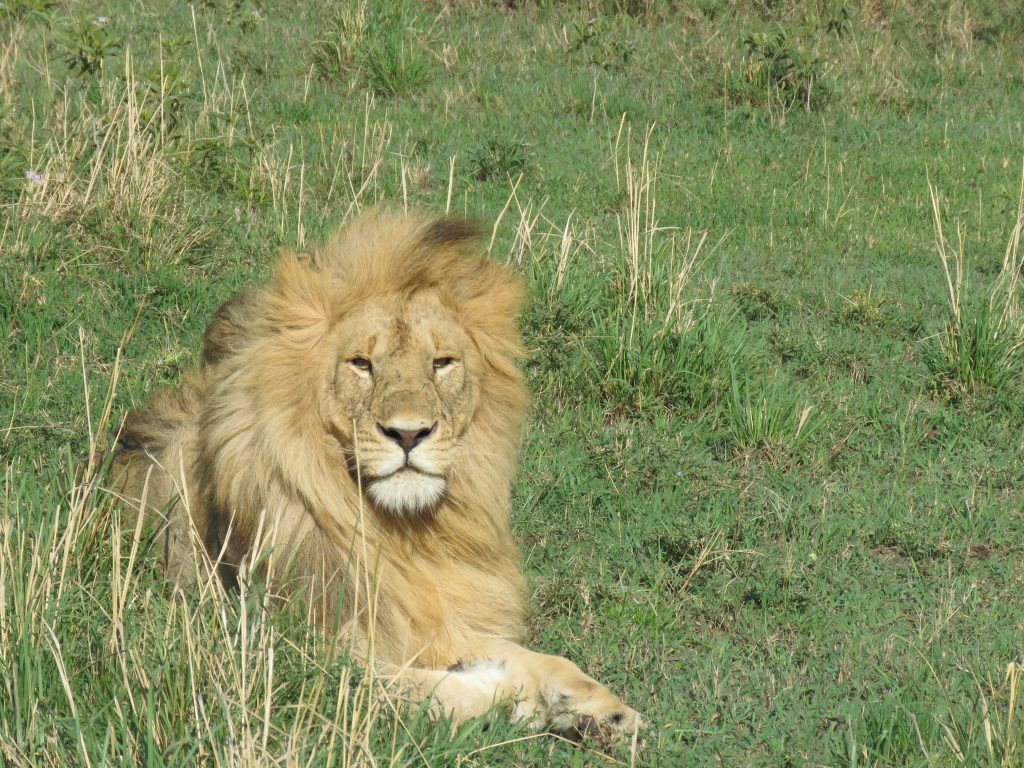 In addition to cats, we were also rewarded with a wide variety of other great animal sightings during our stay, including elephants, giraffe, zebra, ostrich, hyena, jackal and much more. One of my favorite moments on our safari, however, was our absolutely perfect ending. We spent a quiet sundowner moment soaking up the spectacle of watching animals moving slowly in the distance along the horizon while a vibrant sunset lit up the huge Africa skies. A peaceful moment to reflect on how lucky we are to have the opportunity to explore our natural world, and I returned home both humbled and rejuvenated by Africa once more.