Planning a trip to the Galapagos Islands can be a daunting task. With so many options to choose from, it is easy to get lost in the details and confusing logistics. The following is an introductory guide containing the most important details to know in order to plan and prepare for the perfect Galapagos getaway.
Travel Logistics
When to Visit
The Galapagos is a year-round destination to be enjoyed whenever your schedule allows. The islands straddle the equator, so temperatures remain comfortable throughout the year.
Late December through May is considered the hot and rainy season. During this time, skies are mostly sunny, and the moisture brings the islands' vegetation to life with greens and reds. While the water in the Galapagos is always chilly, it is warmest during the latter part of this season.
June through mid-December is the cool and dry season. Skies this time of year can be overcast, and outside temperatures slightly colder. The water also becomes chillier, but the benefit is that the marine life is more plentiful and active. The seas in the Galapagos can be slightly rougher, with more wave movement, from July through mid-September.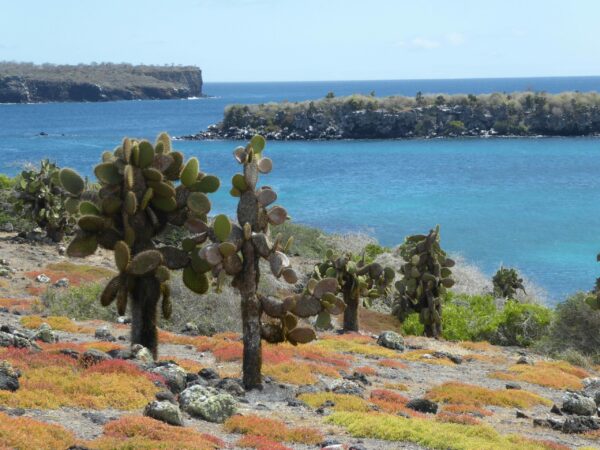 Arrival and Departure
The Galapagos Islands are located 600 miles off the coast of Ecuador, so domestic flights are required. The country's mainland has two international airports: one in Quito (situated in the Andean Mountains) and the port city of Guayaquil (on the Pacific coast).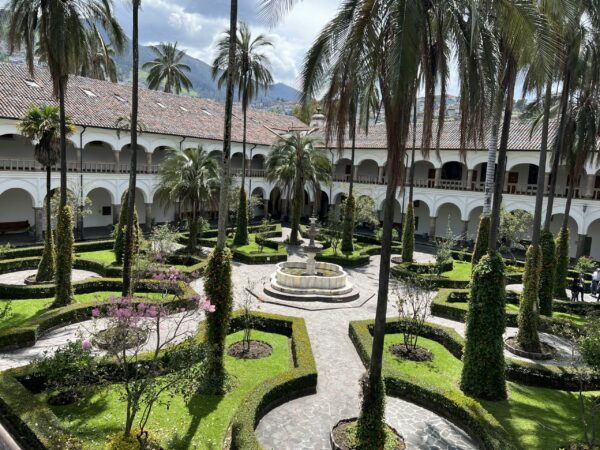 Quito sits 9,000 ft above sea level, and its airport is serviced by most US air carriers including Delta, United, American and JetBlue. The historic center of the city was the first designated UNESCO World Heritage Site, so spending a day or two exploring adds a nice cultural complement to the nature and wildlife of the Galapagos. Quito is also the jumping off point for Ecuador's famed cloud forest, the Amazon Rainforest, and historic highland haciendas, all of which offer deeper cultural immersion.
Guayaquil is located on the coast of Ecuador at sea level. While this city does not have the same cultural appeal as Quito, it is nevertheless convenient, and better suited to those who experience issues at higher altitudes. The only US carriers offering service to this airport are American and JetBlue.
Flying to the Galapagos Islands
Flights to the islands originate in Quito in the morning, fly approximately 30 minutes to Guayaquil to pick up more passengers, then continue onward about two hours to the Galapagos. The same is true on the reverse with flights commencing in the islands, making a stop in Guayaquil, at which point some passengers disembark, then continuing onward to Quito. Because of this, you can start and end your trip in either of these cities.
Exploring the Islands: Liveaboard Boats
A cruise throughout the Galapagos Islands is the best way to maximize your experience. Once on board, you can unpack, settle in, and then just enjoy the ride. You will wake up in a new location each morning and you will embark in an excursion or two before lunch. Back onboard later, your captain will navigate to a new destination while you enjoy lunch, a midday siesta or some downtime. By day's end you will have participated in a total of 3-4 excursions. Every island is different, and the wildlife varies on each, so cruising allows visitors to see much more of this diversity. Plus, a liveaboard cruise is the only way to access the outer reaches of the archipelago.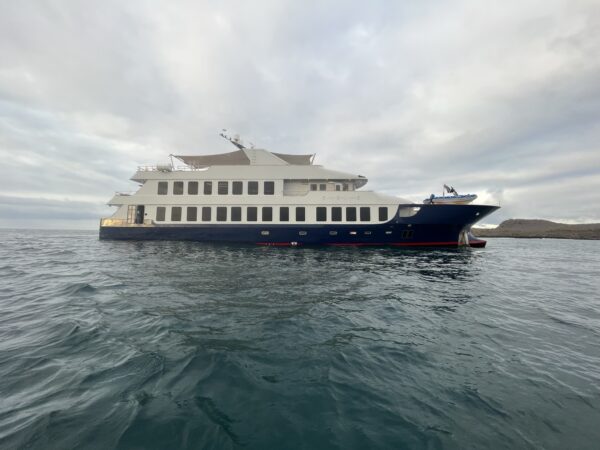 Boat Sizes
Galapagos boats range in size from 12 to 100 passengers, with 16 being the most common occupancy. Regulations require that all visitors remain in the company of a naturalist guide while inside the national park, and that groups ashore or in the water be no larger than 16. For this reason, the larger boats will have additional guides on board. Some deluxe boats and expedition ships staff more naturalists than required for a better guide to traveler ratio.
Boat Itineraries
Every liveaboard boat navigating the Galapagos archipelago has a 14-night itinerary that is designated by the Galapagos National Park Service. The rationale behind this approach is to ensure visitors are spread out to prevent crowds and encourage the protection and conservation of the islands.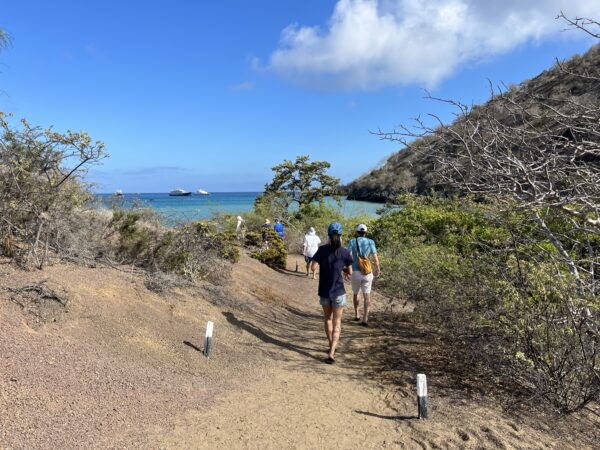 Historically, all boats operated weeklong itineraries, and many have maintained that model. Given 14 days, these ships now alternate between an "A" and "B" (or, "East" and "West") itinerary, for example. In recent years some boats have opted to break their allotted days into shorter segments of 3, 4, 5 or 6-night trips for travelers who may be unable to commit a full week. However, for a comprehensive Galapagos experience, we highly recommend a minimum of 5 nights. (Note that 5 and 6-night itineraries are offered infrequently, and 7-nights are most common, so most guests opt for a full week on board.)
Day Boats: While different in concept, day boats that bring people from populated islands into the national park are subject to similar regulations and are only permitted to visit specific islands on certain days.
Boat Categories
There are several different categories of vessels in the Galapagos.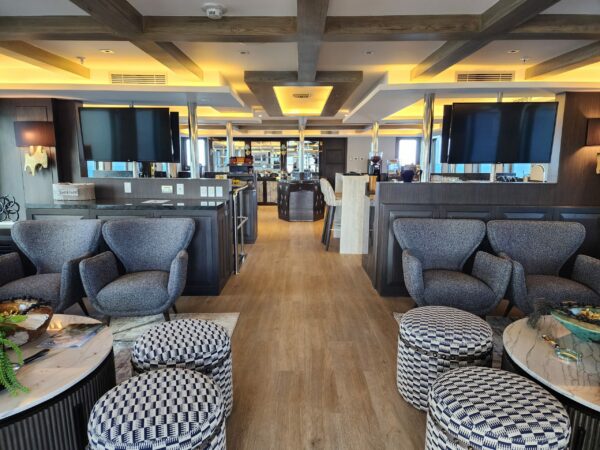 At Travel Beyond we focus on deluxe and luxury small boats, as well as high-end expedition ships. (Note that the word "luxury" can be misleading in this eco-tourist destination and applies to only a select few vessels.) These categories of boats offer more comfortable accommodations, an elevated dining experience, safer mechanics and a focus on guest service. Crew accommodations are also better on these boats, which attract the most experienced and sought-after naturalist guides.
Scheduled Departures vs. Private Charters
Many visitors to the Galapagos join a scheduled departure tour, which are published itineraries with set dates, that are open for additional travelers to sign up. These travelers are shipmates for a week and, for many, become lifelong friends by the trip's end. For those seeking a more exclusive experience—be it for a family or small group—private boat charters can also be arranged. In these instances, it is just your group on board, with private guiding, dining, and activities.
A Typical Day On Board
To protect guests from the midday equatorial sun, most excursions take place in the morning and late afternoon.
After early wake-up and breakfast, guests often head out around 8:30 for an island visit. Walks are usually no more than 1-2 miles, go at a slow pace, and stop multiple times along the way to observe wildlife and learn about the natural history from the naturalist guide.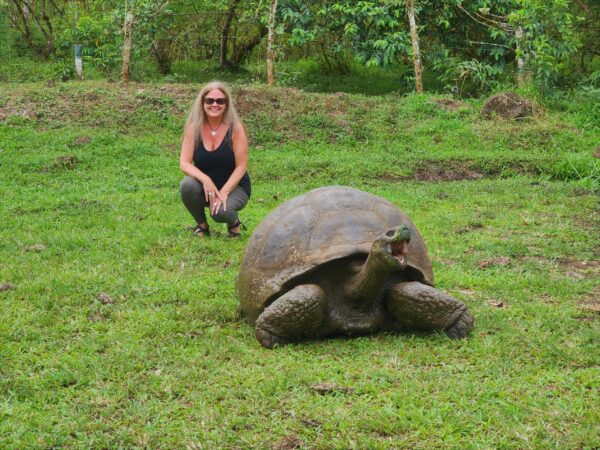 After a couple of hours on land, you head back on board for lunch and siesta. Where allowed by the national park, some boats provide kayaks and stand-up paddleboards for passengers to enjoy during this window of time.
Later in the afternoon, guests head ashore for another land excursion. Depending on the location there is usually at least one opportunity each day to swim or snorkel.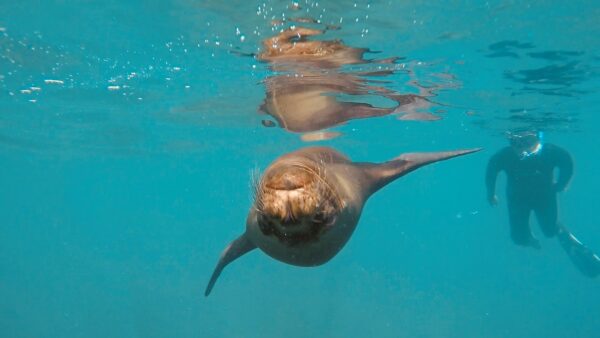 Before dinner, gather with your guide(s) and fellow guests for a presentation on the islands and briefing on the following day's activities.
Exploring the Islands: Lodge-Based Journeys
For those who don't sleep well on boats, or simply prefer retiring to a more private accommodation with a restaurant or private chef service, the Galapagos can also be enjoyed from the comfort of a lodge or villa located on one of the populated islands.
The experiences vary at each, but typically include meals and daily excursions to explore both the island where the lodge is located, and the others nearby. These stays can be customized further with private guide services and boat charters for exclusive exploration of neighboring islands.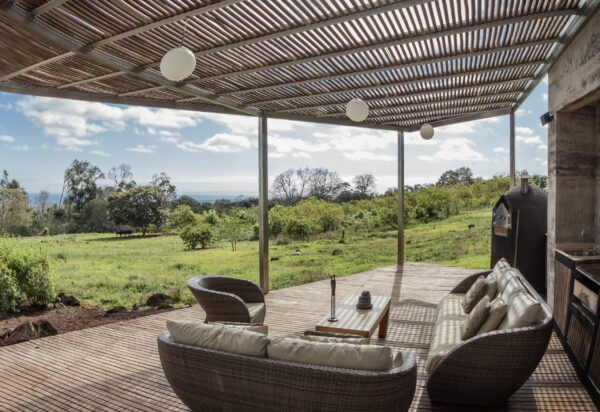 Reaching the lodge's day boat typically requires a driving transfer of 20-45 minutes from the lodges. From here you will sail for approximately two hours to reach your island destination for that day. After a land visit and snorkel or swim option, you will navigate back to the island where your lodge is located and transfer the remaining distance back to the lodge by road.
Because of the distances that must be covered, a day trip will only include two total activities in one or two locations. The benefits of a land-based stay, however, are many, including interaction with locals going about their daily lives, more immersive discovery of areas less frequented by those traveling by boat, and flexibility to spend downtime as you wish.
A land and sea combo can also be arranged for guests seeking a bit of both.
Difficulty of Excursions
Some excursions require a "wet landing," where your zodiac (skiff) will back up to the beach, and passengers must turn around and step into knee deep water. Others allow for what's known as a "dry landing," where passengers step directly onto a rocky shore or simple dock.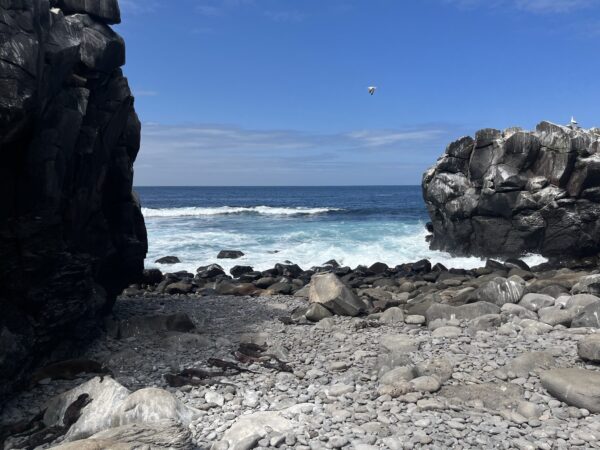 With few exceptions, most trails in the Galapagos are no more than 1-2 miles and relatively flat. Hikes are at a slow pace with stops along the way to view wildlife. The most challenging element for some travelers is the terrain, which can include sand, gravel, slippery lava rock, and large smooth stones that are loose and require a good sense of balance. A few hikes do require more substantial elevation gain.
Snorkeling can take place in a variety of conditions. In some locations entry will be from the beach, in which case the water is fairly calm. In other locations snorkeling can take place in open ocean, or along a rock wall, which requires entering from the zodiac. These open water sites can be fairly rough in terms of water movement, but wetsuits (supplied by most boats) help keep you buoyant. For beginners, a life vest or ring is available for additional support.
What to Pack
While the Galapagos Islands offer much more than a typical beach destination, preparation for a trip here is quite similar. Wearing shorts, capris, or lightweight pants with t-shirts or tank tops is the norm. Performance gear that dries quickly is a bonus as you may get wet transiting to and from shore. An extra swimsuit is always a good idea to allow time for drying between use.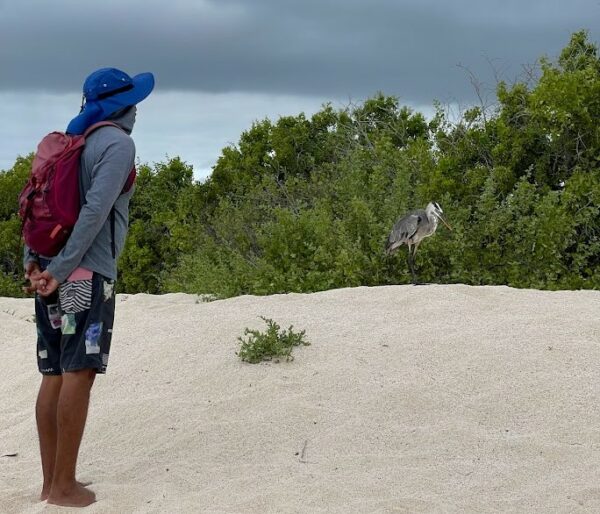 A light rain jacket is also recommended from December through May. From July through December, you may need a lightweight long-sleeved shirt or windbreaker in the morning and evening. Meals are casual and there is no need to dress up.
Appropriate footwear is perhaps most essential to a well-planned Galapagos trip. Ocean waves can pull flip flops right off your feet, so having a good pair of water sandals with a secure strap is key. On some excursions the guides will suggest wearing close-toed shoes, so you can either bring water sandals plus sneakers/light hikers, or one pair of hybrid shoes, such as Keens, which are water shoes with a closed toe and that work in any situation.
An underwater camera such as a GoPro or digital point and shoot is also highly recommended! Consider adding a floating wrist strap so the camera will stay on the surface should it be dropped.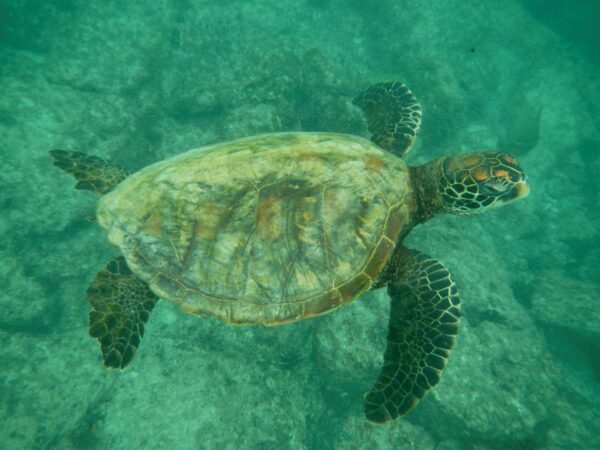 Ecuador's Galapagos Islands are a magical destination to explore. No matter the month, the group size, or personal preference, there is a trip that is just right for you.