Gorilla Trekking is a fascinating experience and arguably one of the most incredible wildlife experiences on offer in Africa. You can gorilla trek in both Uganda and Rwanda (and both are amazing!), but while the gorilla species are the same, the logistics, costs, and experiences differ. Read on to determine which experience might be best for you!
Rwanda & Uganda: What's the Same?
Species: The gorillas are the same species in both countries
Trekking: The duration of treks will vary and are never guaranteed. Your trekking time depends on the gorillas' behavior and can vary from family to family. Sometimes the animals will be sedentary and other times they may be on the move. The difficulty of your trek can never be predicted.
Interaction: Once with the gorillas, interactions are one-hour in length.
Group Size: Both countries offer treks in small groups of 6-8 travelers. At the time of writing, group size in Rwanda is 6 trekkers and Uganda is 8 trekkers. Please ask your consultant for the most recent information, as these numbers do change and in the past have been set at 8.
Landscape: While the landscapes will differ, both countries offer stunning scenery with much to offer!
Best Time to Go: Trekking is a year-round activity. For the best possibility of good weather, we generally recommend travel December through February, or June through October.
Additional Options: Both countries offer opportunities to add on a traditional safari and/or chimpanzee treks are available in both countries.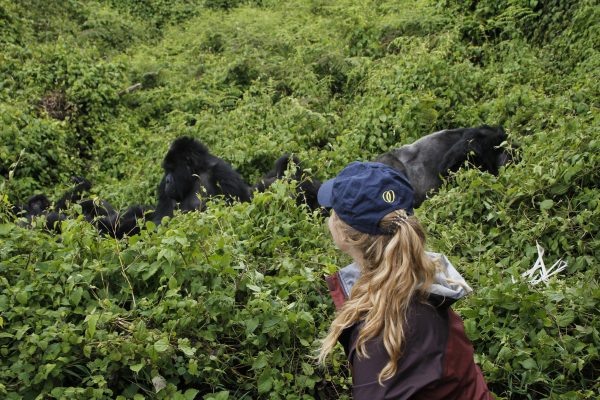 What's different?
The main difference in the experience leading up to your hour with the gorillas depends on your trek into the forest and the location of your accommodation. This can vary greatly and the options are plentiful!
Starting Locations: Uganda offers several different starting places for your trek. You will choose one of these areas at the time of booking, based on where you stay. In Rwanda, everyone starts at the same park headquarters and will be assigned a gorilla family on the morning of the trek.
Permit Prices: At the time of writing, gorilla permits in Uganda are $700 per person, per trek, whereas the gorilla permits in Rwanda are $1,500 per person, per trek. In low season, Rwanda offers a discount on gorilla permits for guests who also spend time in Akagera National Park. (See Callie's post about Akagera).
Accommodations: Rwanda offers more luxury accommodation options than Uganda. At this time there are no true 5-star offerings in Uganda so instead we recommend the best possible options for our clients, which are typically 4-star accommodations. In Rwanda, there is a range of cute boutique hotels to high-end luxury lodges all of which are excellent options. It ultimately comes down to personal preference about accommodations, food and service – since the gorilla trek is sure to be amazing no matter which location you choose!
Guiding: In Rwanda, you are required to have a driver-guide with you for the duration of your say in the country, unless you take a helicopter – the most scenic (and in our opinion most fun!) option, or you drive yourself – which we do not recommend. If you travel to Volcanoes National Park via helicopter your guide will meet you at the airstrip for a seamless experience. In Uganda, you can book accommodations without paying the additional rate for the driver-guide.
Trekking Difficulty: Generally the trekking in Uganda is known for being more challenging: the forest is called the Bwindi Impenetrable Forest for a reason! The elevation profile in Uganda is also steeper in most areas when compared to Rwanda (more on this below). Rwanda offers more options and flexibility to suit your preferences. Although it can't be guaranteed, you can request an easier or harder trek on the morning your permit is assigned to a family. Your consultant will walk you through the various trekking options and the merits of each.
Infrastructure: Rwanda takes a lot of pride in their infrastructure and has invested heavily in their road system. Rwanda's roads are some of the most well-kept in any African country we have visited.
Golden Monkey Treks: Rwanda offers golden monkey treks from the same location as the gorilla treks. In Uganda, you can trek for golden monkeys in Mgahinga Gorilla National Park, where there is also one habituated gorilla family. At the time of writing, the permit cost in both countries is $100 per person and is a very common add-on after a gorilla trekking experience. Clients typically love this activity, as the golden monkeys tend to get a little closer and are often more playful than the gorillas.
Unique Trekking Opportunity: A unique option in Uganda is to combing two different trekking regions or for those who are really adventurous trekking between Nkuringo and Buhoma – a walk that will take about six hours, but is a very interesting experience. Craig has done this trek in the opposite direction (although recommends starting in Nkuringo) and said it was a beautiful walk through thick lush forest.
Uganda Gorillas
Bwindi has four trekking locations, home to several different gorilla families. Each family can be visited by eight tourists per day at the time of writing. Although subject to change, current family counts include:
Buhoma in the northwest: 4 gorilla families
Ruhija in the northeast: 4 gorilla families
Rushaga in the southeast: 7 gorilla families
Nkuringo in the southwest: 3 gorilla families
There is also one gorilla family in Uganda's Mgahinga Gorilla National Park. This park is on the "back side" or north slope of the hills that form Volcanoes National Park in Rwanda. In other words, the gorillas in Mgahinga are actually closer to the Rwanda Park headquarters than they are to Bwindi; roughly about six miles as the crow flies. The Mgahinga gorillas can be in direct contact with the Rwanda families as they occupy the same mountains.
The most recent census said there are more than 450 gorillas living in Uganda's Bwindi Impenetrable National Park and the adjacent Sarambwe Reserve in The Democratic Republic of Congo. Additionally, in 2020 Uganda had a bit of a "baby boom" with eight new babies being born in just the span of 3 months while borders were closed.
Rwanda Gorillas
Several of our colleagues have written in detail about gorilla trekking in Rwanda. We recommend taking a look at these blog posts! Note that there is only one park headquarters in Rwanda. You may end up driving to the start of your trek after you are assigned to a gorilla family, but your focus should be booking the accommodations of your choice and asking how far your lodge is from park headquarters. The rest of the logistics are a bit more simple in Rwanda.
The "Single Best Moment" of Katie's Gorilla Trek – Katie Gomer
Chimpanzee Trekking in Rwanda – Rachel David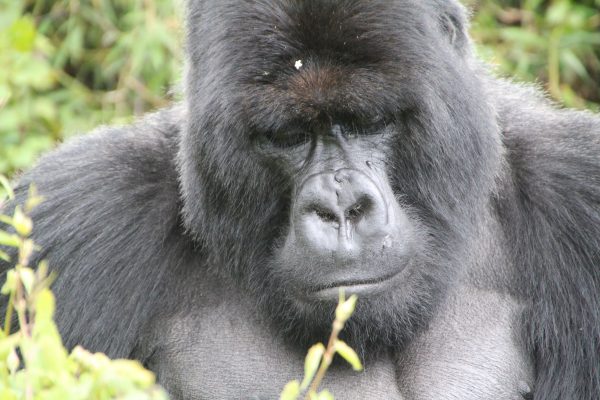 What's the Best Option for You?
The "best" for you will depend on your budget, accommodation preference, where you are arriving from, your fitness level, and your ability to handle the uncertainty of not knowing how long your trek will be and what type of sighting you will have with the gorillas. Our clients have had a 100% success rate of seeing the gorillas on their treks. Some clients budget for just one trek and others book two treks in order to spend more time with the gorillas and have a different experience the second time.
No matter which country you choose, gorilla trekking is an amazing experience and is not to be missed!