In November of 2022 my husband and I visited Panama. A lot had changed since my first visit 19 years ago, and I was excited to update my knowledge and take in the wide variety of offerings this tiny country packs. As expected, it did not disappoint, and I experienced first-hand how special it is to explore Panama from west to east and everywhere in between.
Panama's Geology
As a geology enthusiast, I found Panama's geologic history fascinating. Panama is an isthmus, which is a narrow strip of land that links two larger land masses and has bodies of water on each side. North and South America did not used to be connected, and water flowed freely between the continents. The isthmus of Panama was formed by the subduction of the Pacific tectonic plate under the Caribbean plate, which created undersea volcanoes that eventually led to  a string of islands. The gaps between those islands were subsequently filled in by sediment from the nearby continents swirling around the ocean and settling. Once the sediment reached the surface, the resulting isthmus- which, contrary to the north to south progression of the rest of Central America, runs west to east- connected the two land masses. This closure changed ocean currents and atmospheric patterns around the world, and served to create a natural land bridge, which had a lasting impact on the biodiversity of each continent. Eventually the 50-mile Panama Canal was constructed at the narrowest point of the isthmus to reopen that passage for the efficiency of trade.
Coast to Coast in a Day
Because of the short distance between oceans, Panama is one of the easiest countries to visit both the Pacific and Atlantic coasts. Some visitors might choose to travel from one side to the other over the span of one very long day via a boat ride through the Canal. But I highly recommend a more comprehensive experience, one that allows you to see the city, Canal, and points along the way by both land and sky.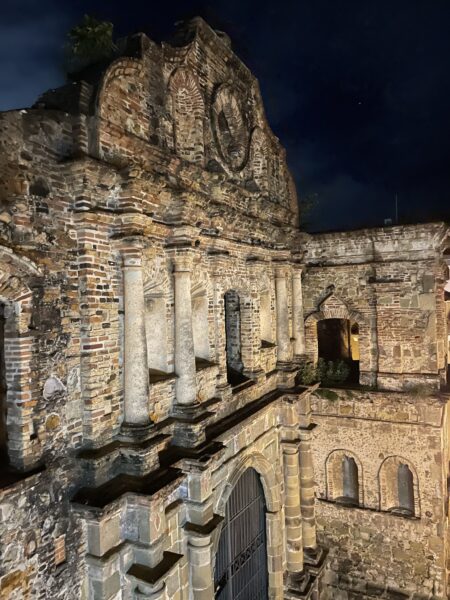 No matter how you choose to experience both coasts, your trip will start in Panama City, located on the Pacific side, and a destination in itself. Casco Viejo is the historic center and a UNESCO World Heritage Site. The area was originally a European settlement dating back to the early 1500's but was rebuilt in the late 1600's after being attacked and destroyed by pirates. The neighborhood is now a mix of historic ruins, museums, restored buildings, residences, chic restaurants, retail businesses, and boutique hotels. From here you can visit the local fish market, climb Ancon Hill in the city's rainforest to take in the views and resident wildlife, or make your way just outside of the city for a variety of other nature and cultural experiences.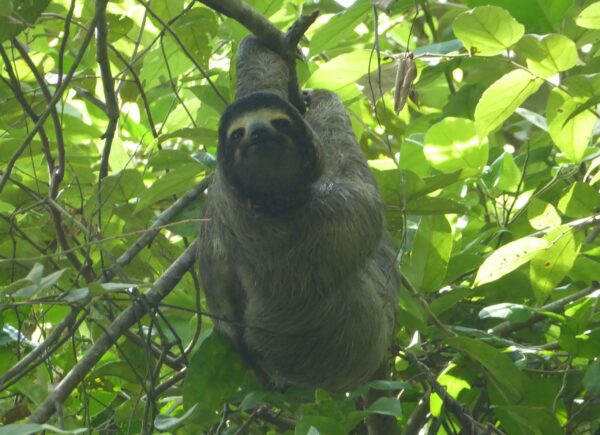 From Panama City, you can cross to the city of Colon on the Caribbean side in just 30 minutes by helicopter. The flight takes you over the length of the Canal, providing a bird's eye view of this engineering feat, along with small towns, waterways, and miles of countryside. If you're game, you can take an adventurous detour on the return, flying below the treetops and along the winding Chagras River at high speeds. It's like an amusement park ride, only way better! You'll and next to the river in the middle of the remote rainforest to capture a photo of this epic experience. And once back in the city, you can visit the Miraflores Locks of the Canal, where VIP access brings you just a few feet from the ships as they are raised or lowered while passing between oceans.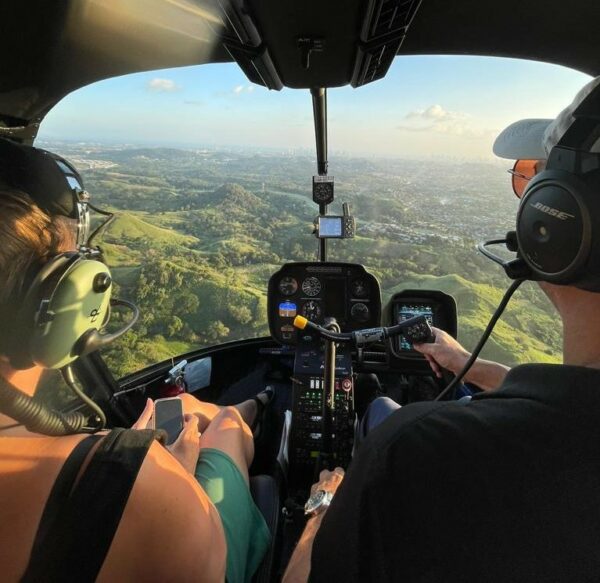 Alternatively, you can drive from Panama City to Colon, visiting the Panama Canal expansion project along the way. Here you can see the new Aqua Clara site built to accommodate today's larger freight ships with locks that are 70 feet wider and 18 feet deeper than the original. Continue to Colon to visit the San Lorenzo Fort, which was built by Spain in the 16th century in order to protect the cross-country route from pirate attacks. Overlooking the Caribbean Sea, San Lorenzo today is an important historic site that is recognized by UNESCO. From here, return to the city by vehicle or helicopter. Many options for a coast-to-coast day tour from Panama City!
A More Immersive Coast to Coast Experience
For a more immersive experience, from Panama City you can head to the west of the country and take your time crossing between coasts, soaking up three of Panama's best highlights along the way.
The Gulf of Chiruqui, located off Panama's western Pacific coast, is known for its coral reefs and mangrove forests. One of the best places to stay and explore this area is Isla Palenque, a 400-acre private island with dense rainforest and long stretches of sandy beaches. The island has a long history that is celebrated, and sustainable practices are employed to preserve the local ecosystem and connection with nearby communities.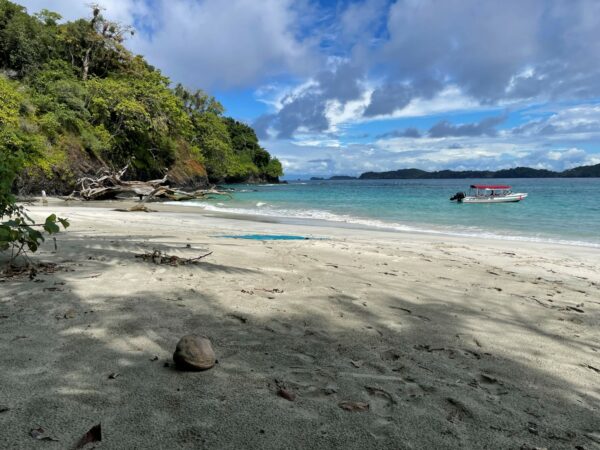 Palenque's 8 eco-chic casitas are tucked into the forest along the beach offering plenty of privacy. Each features a front porch and hammock, a spacious interior with king bed and living space, and a dreamy outdoor bathroom with a luxurious rain shower and a rainforest bathtub. A 6-bedroom villa with its own private beach is also available, and ideal for families and groups. A refreshing pool can be found next to the restaurant and bar area for those who simply want to relax and enjoy the surroundings.
A stay here includes all meals and a menu of activities on the island to choose from each day, such as rainforest and beach hikes, kayaking, stand-up paddleboarding, fishing, birdwatching, rum tasting, and cooking and cocktail classes. Off-site activities like island hopping, snorkeling in the Chiriqui Gulf, and cloud forest adventures (on the mainland) can be booked at additional cost. Activities are guided by knowledgeable naturalists from the local area, who additionally provide a cultural connection.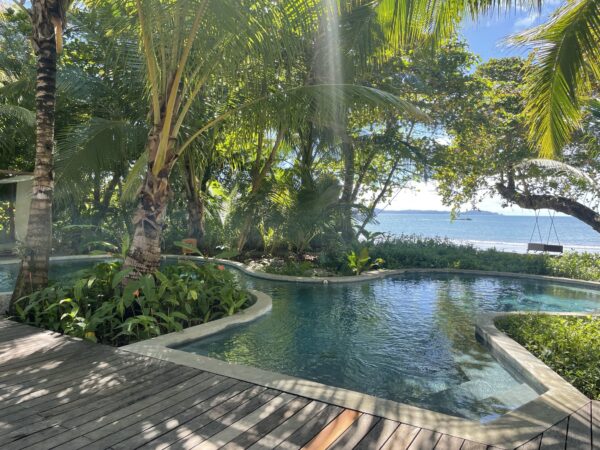 From Isla Palenque it is about 120 miles to the Atlantic coast, or less than 4 hours by road. While this could be done in a day, I highly recommend breaking up the drive with a couple of nights in the town of Boquete, sandwiched between the coasts. Popular with retired expats, this town is located at 4,000 ft of altitude in the cloud forest, making it a respite from the hot and humid lowlands. The ever-changing weather here is influenced by mountains and atmospheric patterns, which create a lush and often rainy environment that features wildlife, frequent rainbows, colorful flowers, and springlike temperatures throughout the year. Coffee is one of the main industries here and the source of many popular excursions, but visitors can also enjoy tea and honey tasting for a different experience. Other activities in the area include hiking, ziplining, river rafting and horseback riding.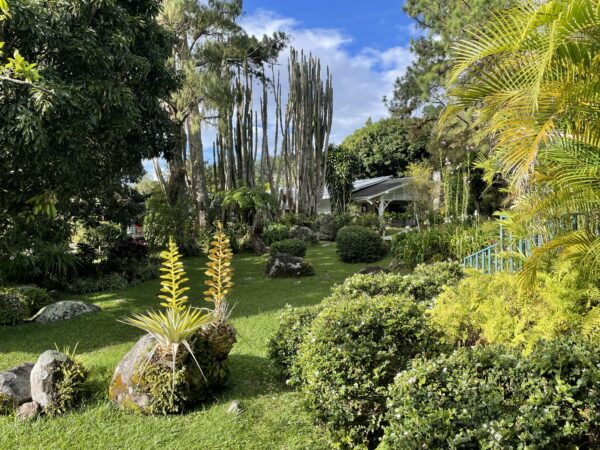 Continuing onward and north from Boquete, you will reach the island archipelago of Bocas del Toro on the Caribbean coast. This region is home to a mix of indigenous locals and eclectic expats who reside in both populated communities and remote areas. Bocas draws travelers seeking cultural experiences, rainforest, sandy beaches, and water activities like surfing, snorkeling, diving.
Located on a private mangrove island, Bocas Bali is one of the best luxury accommodations in the area, and ideal for couples. Each of the 16 spacious over-water villas features a king bed set beneath a massive carved Balinese frame, French doors leading to an ample deck, and a spacious bathroom covered in colorful patterned tile, all of which create a luxury boutique feel. Half of the villas have a private plunge pool on the deck outside, while the other half feature a "water window" on the villa floor affording indoor views of the sea below. A multi-level tree house is also offered for those seeking a different type of experience. In addition to two restaurants, common areas include a gorgeous tropical pool and the unique "Aerial Beach," which is built out over the calm water and features a sand floor to create a beach-like feel.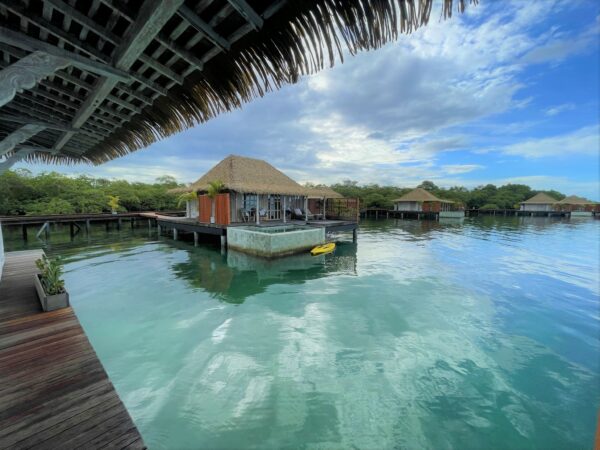 A stay here includes all meals and alcohol, served by an exceptionally accommodating staff. In addition to complementary kayaking, stand-up paddleboarding, and snorkeling, additional activities to explore the archipelago are available at extra cost—Set out by private boat with your captain to enjoy a day of snorkeling, scuba diving, fishing, or island hopping to various beautiful beaches, visit Monkey Island, enjoy a chocolate farm tour, or make your way around the highlights of Isla Colon by ATV. There are many options to make the most of your visit to this little corner of the country!
The tiny Isthmus of Panama is an important link between the Americas and just waiting to be discovered with a diverse array of land, sea, and air experiences!