Experiencing the world through food offers more than just the food itself, it tells a story and a history that may not be revealed until further investigation. I don't know about you, but I'm all about the food. Before I pack my bags and go anywhere, local or international, I'm sure to look up where famous foodies like Anthony Bourdain or fellow Minnesotan, Andrew Zimmern, have traveled to for the local delicacies. So, when my husband, friend and I decided to travel to Vietnam and Thailand, I couldn't wait to seep through the food footage.
First stop, Ho Chi Minh City. We started the day off with a fresh bowl of Pho, a broth based soup with rice noodles, sliced beef, bean sprouts and herbs. While this may not sound appealing when it's 90 degrees outside, I assure you that the flavors are a knockout and keep you coming back for more. The symphony of sweet, salty, sour, spicy and bitter is famous for a reason.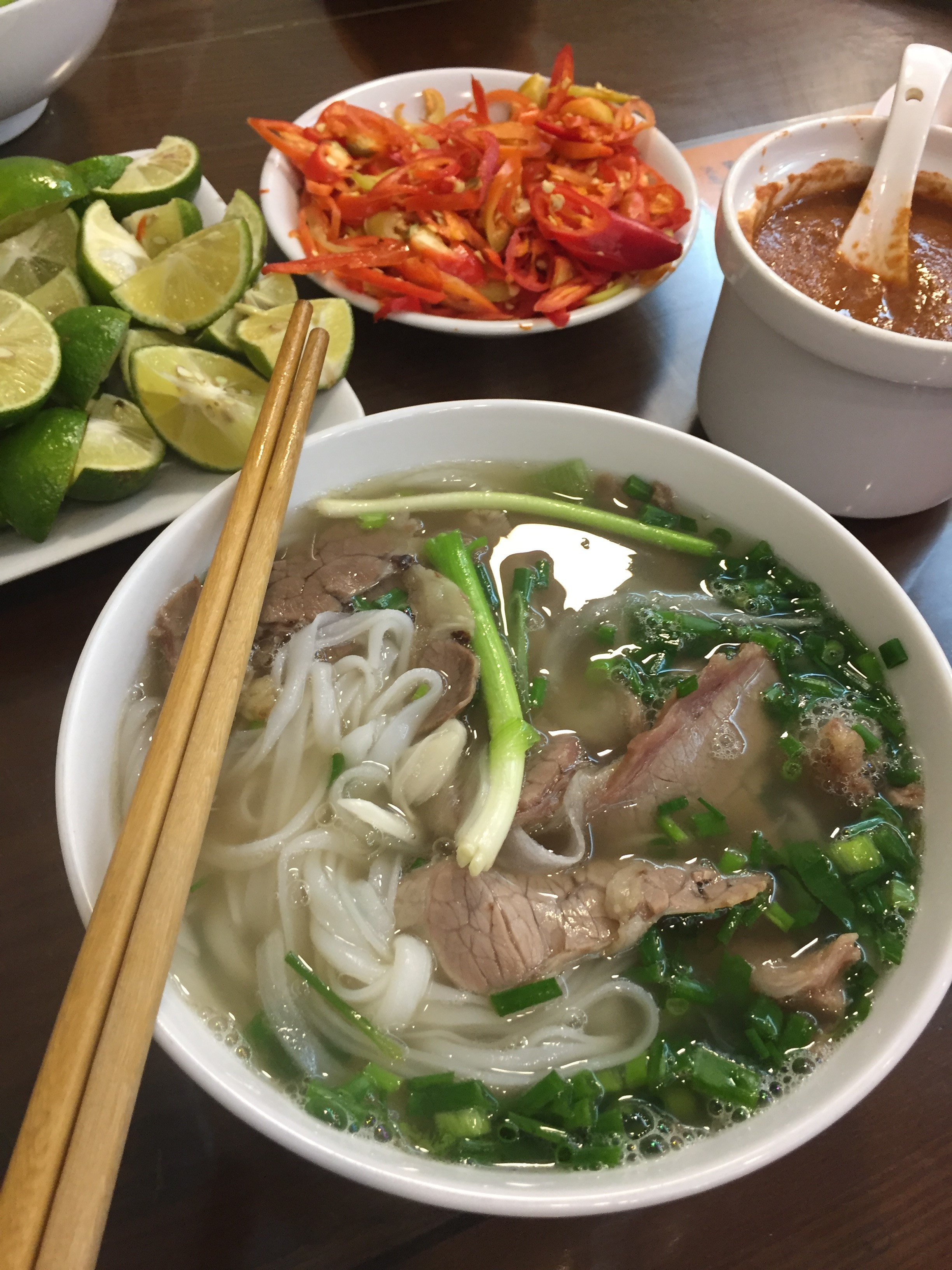 We headed out with our guide, Tre, for the 90-minute drive to the Cu Chi Tunnels, where over 120 miles of tunnels stretch below the earth's surface. We even had the opportunity to crawl through a short stretch of the tunnels to get an idea of the accessibility and darkness. It's amazing to think that people lived down there for years at a time!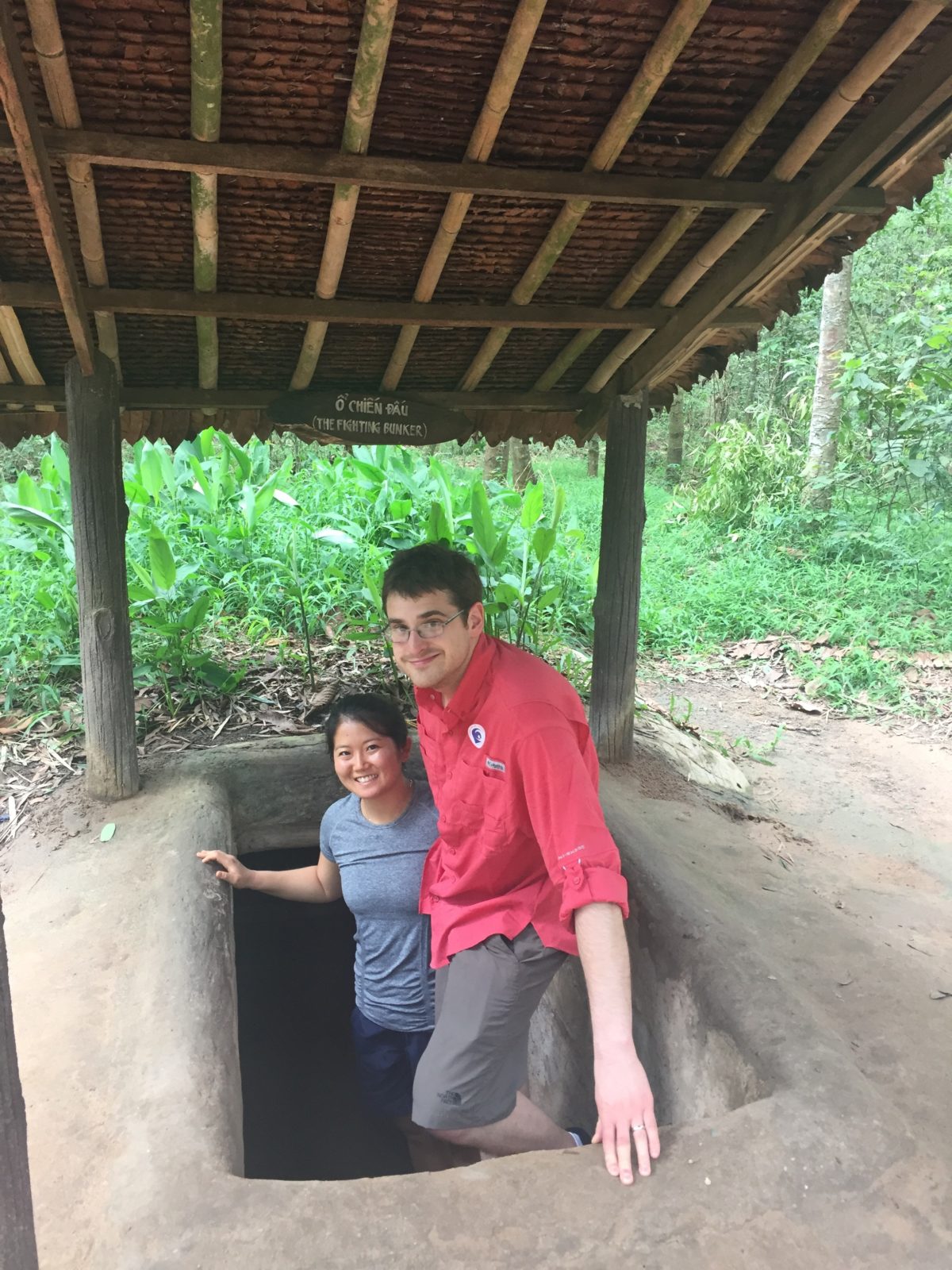 Next, we flew to Hoi An, a quaint city in Central Vietnam, nestled next to a river and the ocean. This UNESCO World Heritage Site was quite the trading port from the 15th to 19th century and a lovely retreat from the hustle and bustle of the big city.  We also enjoyed a stunning sunrise stand-up paddleboard excursion one morning where we discovered the stillness and natural beauty between the clear blue ocean and the neverending horizon.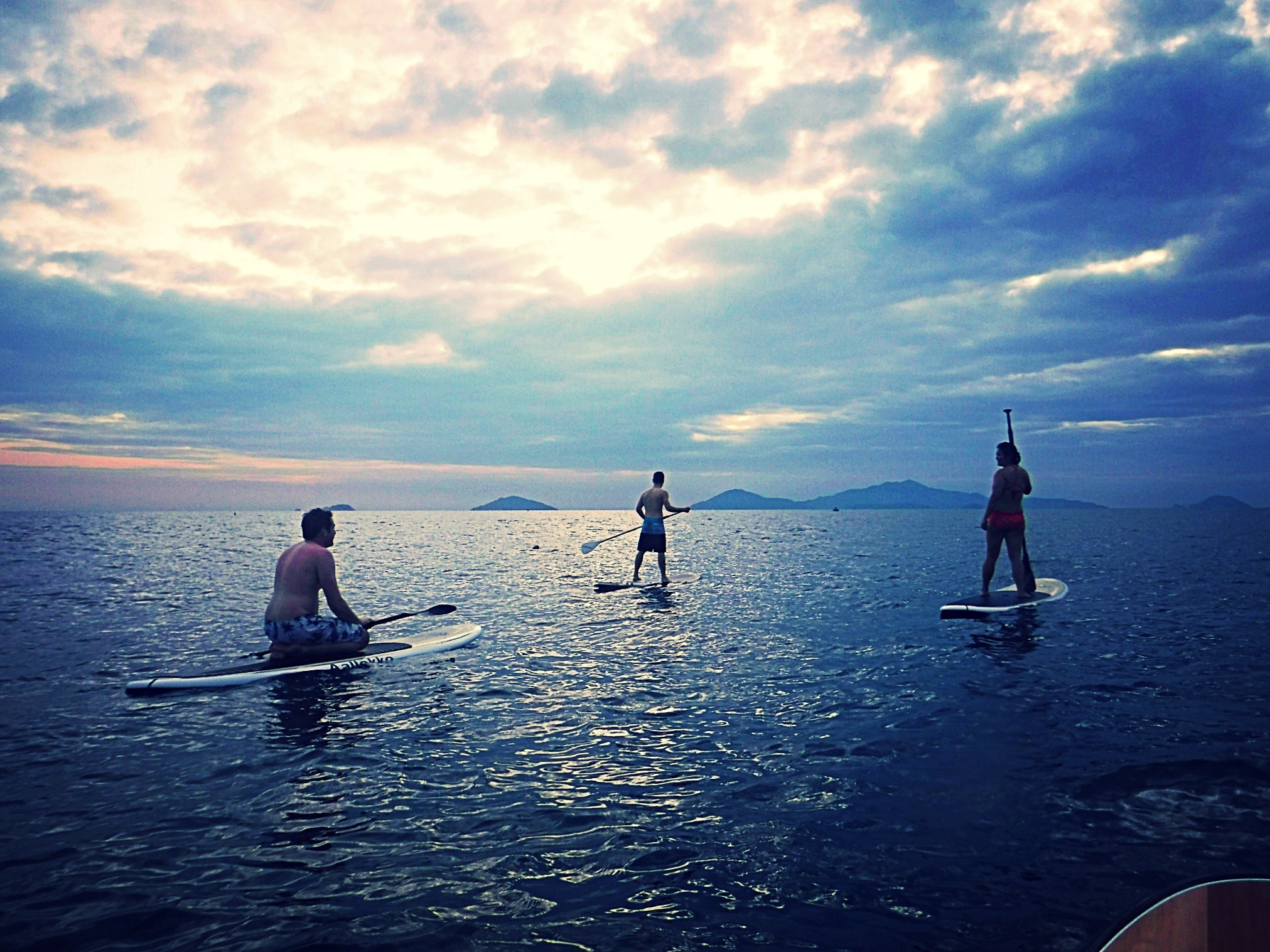 This is also where we had one of our best meals of the entire trip, at Morning Glory. Ms. Vy is a famous chef and runs a cooking school that I wished we had enough time to attend, but will do the next time. We devoured the white rose dumplings, pork belly (with five spices and a caramel sauce) and bun cha. We absolutely fell in love with the restaurant's namesake, morning glory – it's similar to spinach but it has more texture and sweetness.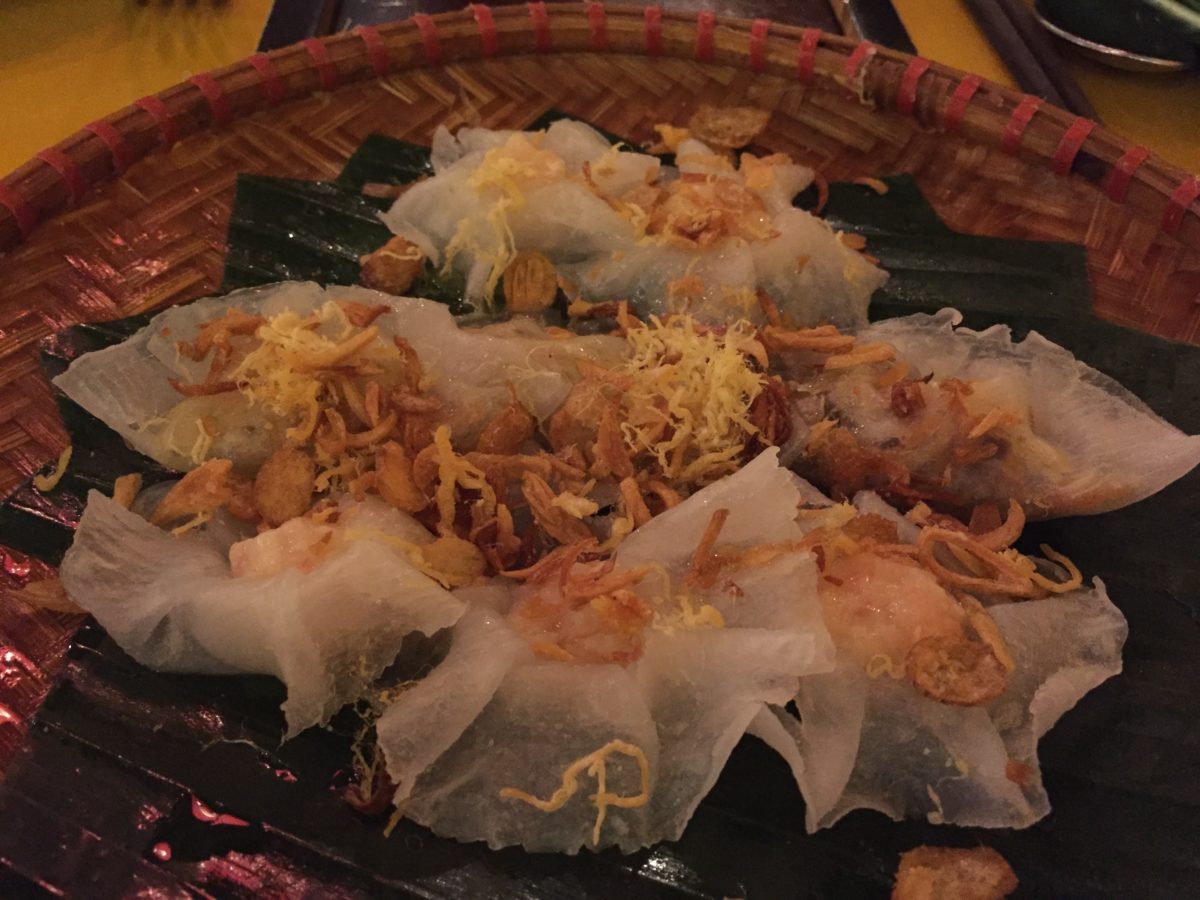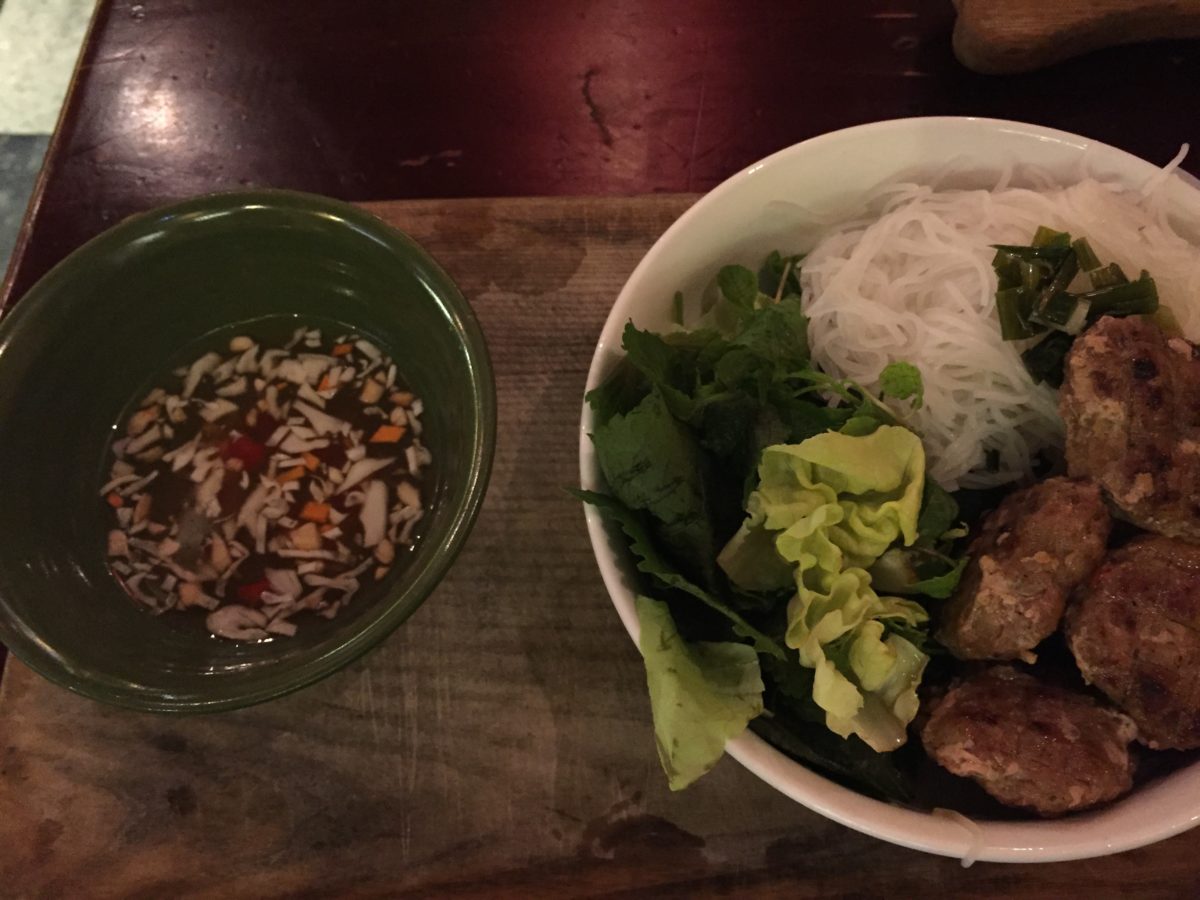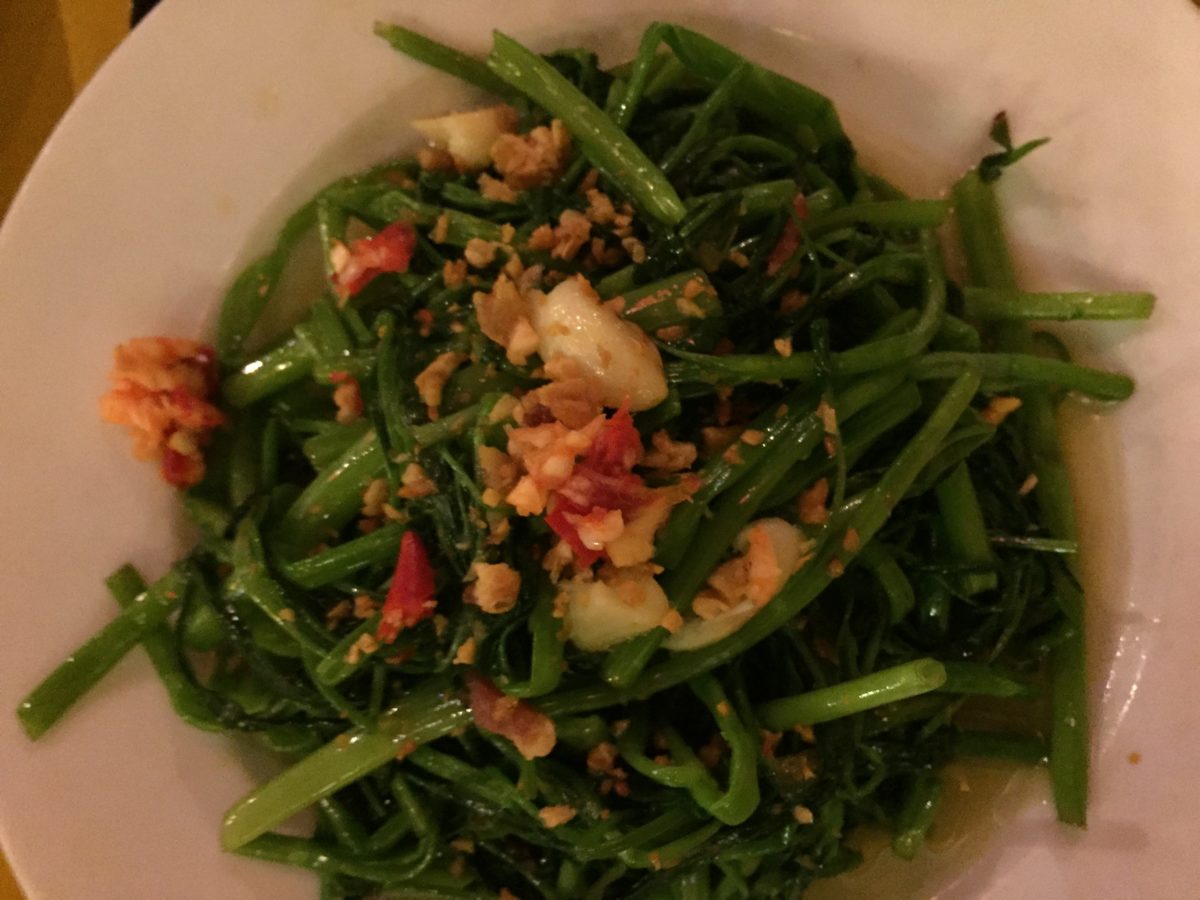 After two short days relaxing on the beach, we ventured further north to Hanoi where we experienced an authentic Vietnamese adventure on the back of a motorbike, paired with a food sampling at several locations. Wow, what a ride. You really get a pulse on the city as you weave in and out of thousands of motorbikes, but of course in the capable hands of your driver. We sampled frozen coconut coffee, buffalo jerky, bun cha, and pho cuon. This was a fun way to see the city as it truly comes to life after the sun goes down and it cools off a little.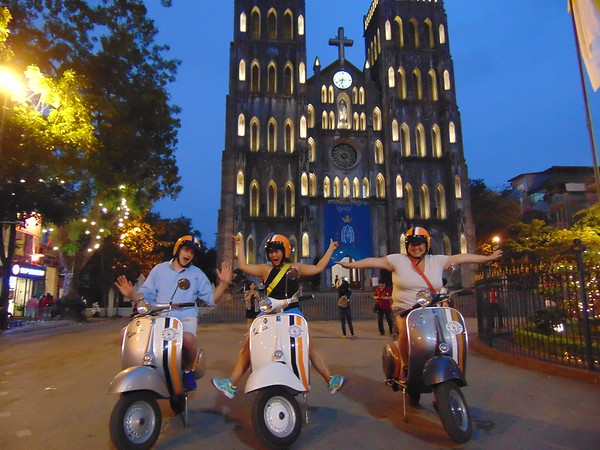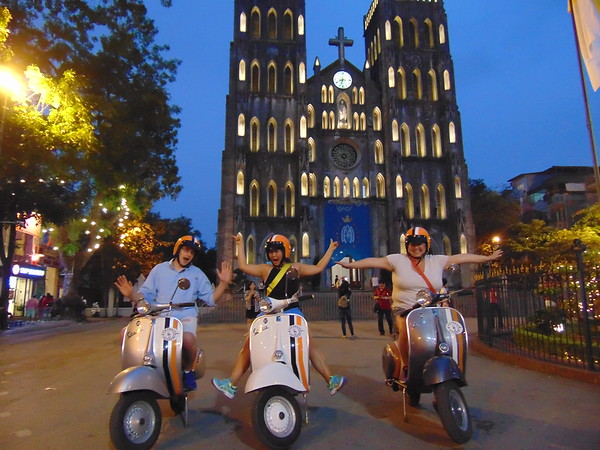 And no trip to Vietnam would be complete without a visit to Halong Bay. We boarded the Orchid Cruise, one of the newer ships that cruises the 2,000 some islets, and is only a 90-minute drive from Hanoi versus the typical four-hour drive. It was a magical place and unlike anything I've ever seen before. I especially enjoyed the kayaking and swimming, which allowed us a chance to get up close and personal with those fantastic natural formations.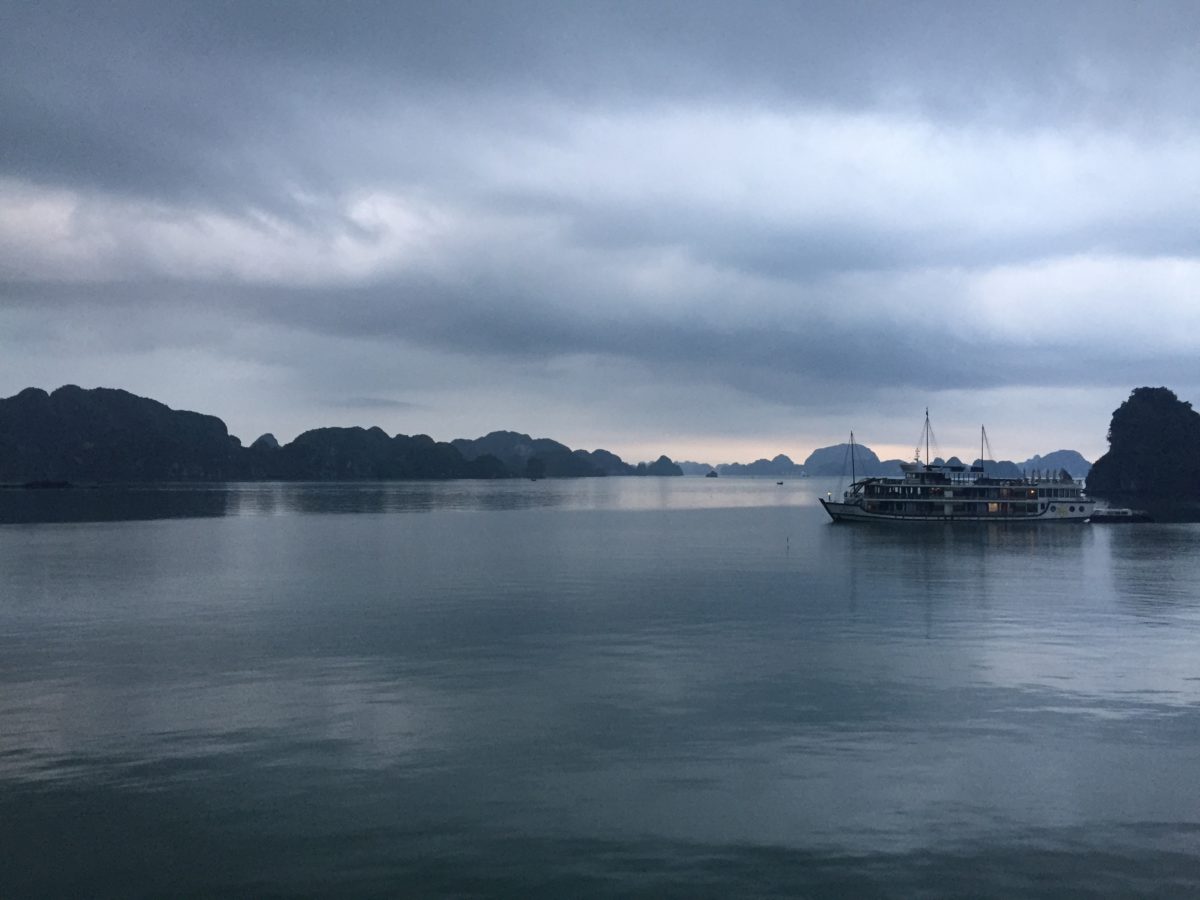 We were sad to say goodbye to Vietnam but we were greeted with open arms in the Land of Smiles, Thailand. We boarded our tuk tuk for our Night Light tour, complete with stops along the way to try vegetable curries, satays, ginger chicken, green beans with fried pork, stir fried mushrooms, stir fried noodles, mangosteen and desserts in Chinatown. Like Hanoi, Bangkok comes alive at night as people come out as the heat subsides. The temples are lit up and glow against the dark sky like stars. With thousands of temples in Thailand, it's no doubt a spiritual place, but at night it takes on an even more captivating atmosphere.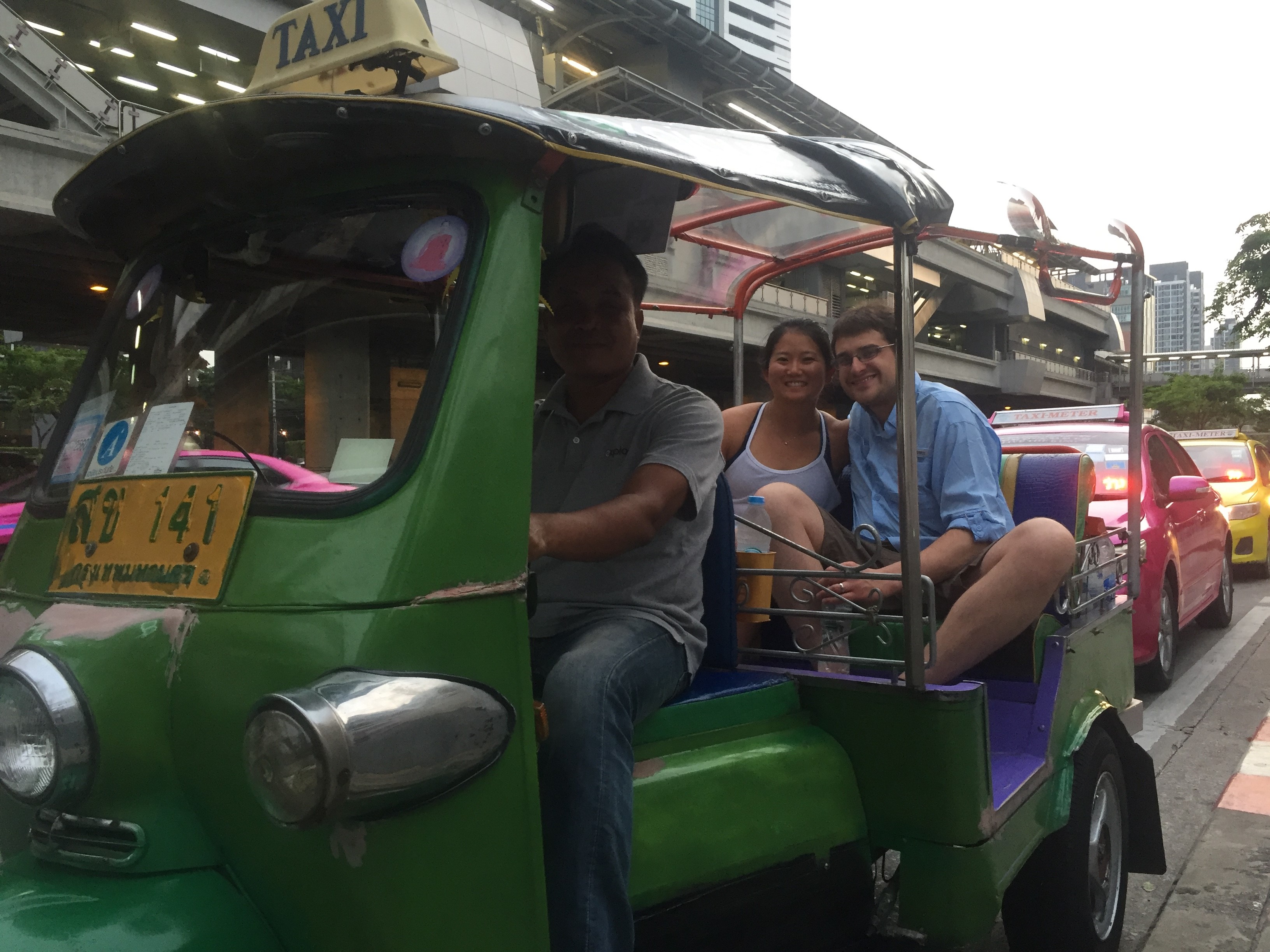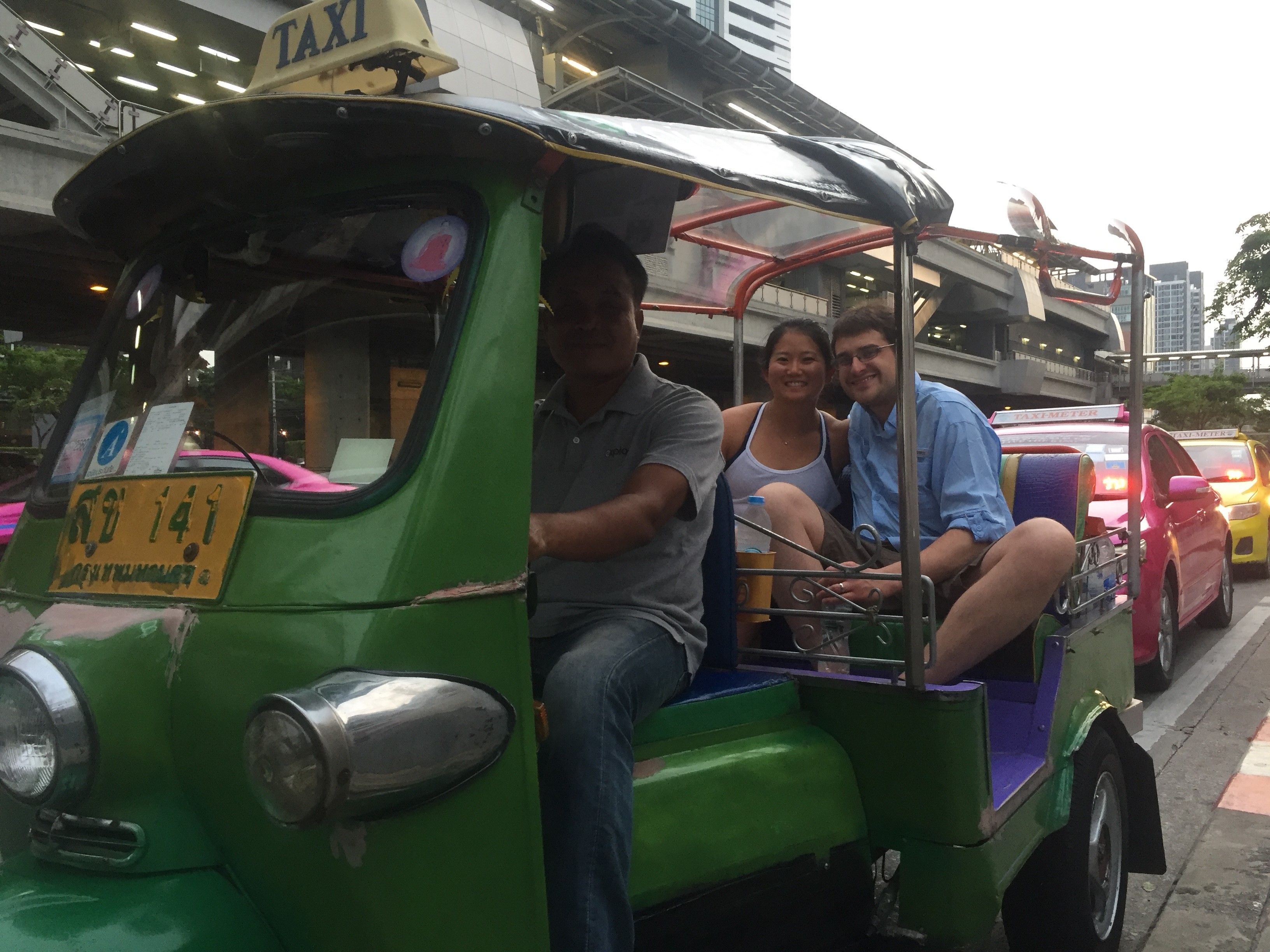 We rounded out our Southeast Asia vacation with a final stop in Chiang Mai. Our full day with the elephants at the Elephant Nature Park was a day that will not soon be forgotten. Here, rescued elephants roam free with their one-on-one mahout or caretaker. We had many opportunities to feed the elephants bananas by the barrel, and of course to pet these friendly giants.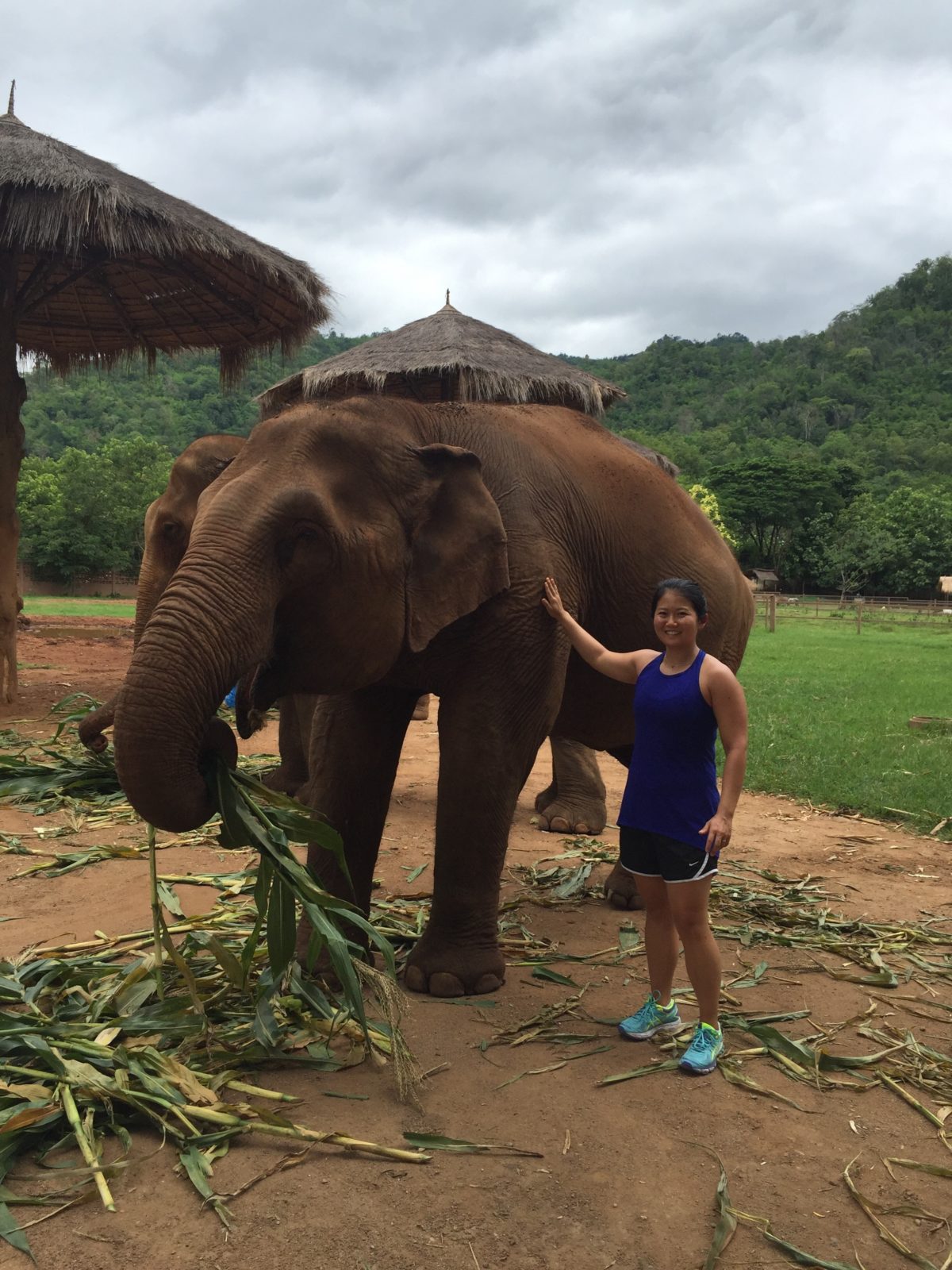 As a last treat to ourselves to celebrate a successful trip, we dined at David's Kitchen, a European/French/Asian dining establishment where they marry the best that these culinary offerings provide. There was no detail left unturned as we were greeted at our table with a small placard with each of our names welcoming us to dinner. We licked our plates clean of Velouté sauce as we tried the yellow Japanese pumpkin soup and spicy fish salad with green apple, and we shared the braised lamb shank and braised beef cheek slow-cooked in red wine with Paris mash. This was a lovely way to reflect on the past two weeks where we'd come accustomed to the local way of eating, but now had the chance to taste the flavors in an elevated state with harmonized western inspirations. Like the food, I felt like I was going home influenced by my experiences – with an appreciation for the past to help guide the present and future.