Uganda is known as the "Pearl of Africa," and it's not hard to understand why: spectacular scenery and extraordinary experiences combine to create a breathtaking gem of a destination.
Uganda is also well known for offering both traditional safaris and exciting primate treks, with many reserving space on their travel lists to visit the country's endangered mountain gorillas in their natural setting. Since these animals cannot survive in captivity, if you want to see them, you must find them in the wild – and Uganda is an excellent choice! But the mountain gorillas are not the only primates to call the country their home. Chimpanzees can also be found in Uganda– and I was fortunate to visit both of these primates on my recent trip.
MOUNTAIN GORILLAS
There are two places in Uganda to visit the mountain gorillas. The first is Mount Gahinga (in the southwest corner of the country, bordering Rwanda); but on this trip, I trekked in the Bwindi Impenetrable Forest, located just a bit farther north on Uganda's western border. The 127-square-mile Bwindi Impenetrable Forest is home to more than 300 gorillas, making it a great place to meet this charismatic, endangered species.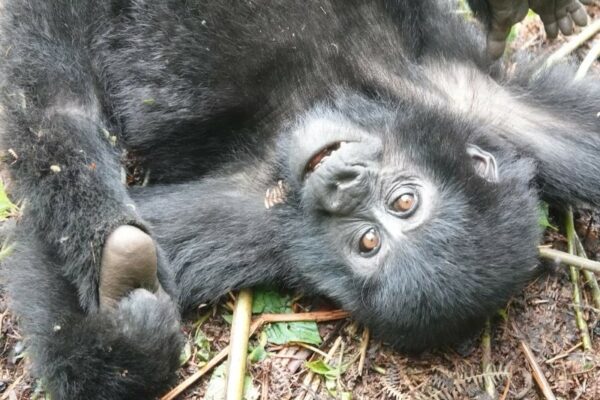 Getting to Bwindi Forest National Park
To reach the Bwindi Impenetrable Forest, you will have to fly on a shared light aircraft into one of four airstrips, from where you will be transferred to your lodge. Arrival at the park headquarters requires a drive of varying lengths. The exact arrival airstrip and duration of road transfers depends on the property in which you are staying.
My Accommodations
Bwindi Lodge is a small luxury property with stunning views of the forest canopy and a serene stream. The lodge has ten individual "bandas" which are rooms with thatched roofs, and your assigned butler will make sure all of your needs are attended to throughout your stay. Each banda has a private terrace and boasts scenic vistas over the Bwindi Impenetrable Forest. Take a careful look out your windows and you will likely spot the monkeys and birds hidden in the foliage! On the night before your trek, you will participate in a group briefing about the mountain gorilla experience.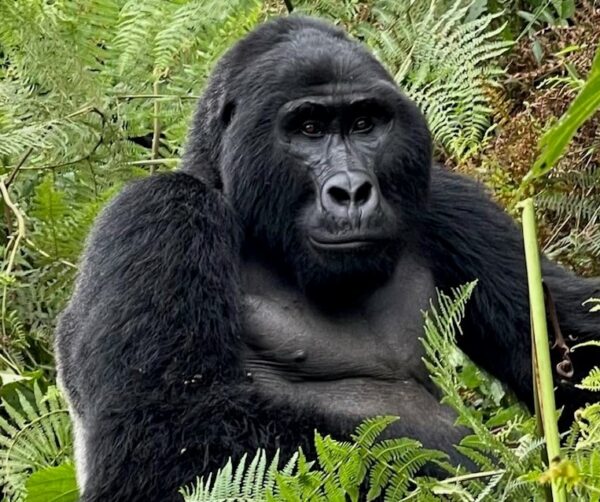 Visiting the Gorillas
On the morning of your trek, you will awake early to depart for the park headquarters. When you arrive, you will have a briefing led by park authorities who will share important information about your trek, your safety and the importance of respecting the gorillas while you are in their presence.  You will embark on a forest trek lasting 1-5 hours, depending on the location of the primates within the thick forest. Bwindi has four trekking locations, each taking you to one of the gorilla groups. Several families have been habituated here, meaning they have completed the delicate process of gradually becoming comfortable to the presence of humans. The number of families fluctuates based on their movement and the progress of their habituation. Visitors, in groups of no more than 8, are allowed to observe the family for a maximum of one-hour. After your trek, you will return to park headquarters and then on to your local accommodations.
About the Trek
Ultimately, the terrain you encounter varies based on where and how long you have to trek to meet your assigned gorilla family. Guides will set out before you in order to clear out some of the growth you will encounter, but visitors will still need to navigate some patches of difficult terrain. Porters are available to help carry your belongings and essential to increasing your comfort while you trek.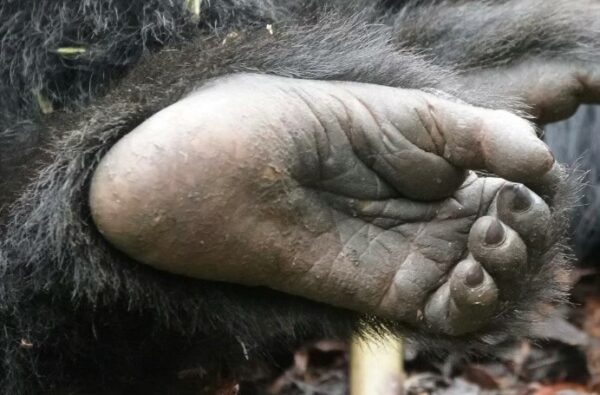 Pro-Tip:
When visiting the Bwindi Impenetrable Forest, you can also set aside time to tour the local community hospital. The site was opened in 2003 and provides a wide variety of services to those living in the area, from mental health support to reproductive health resources. Spending time here, and the adjoining nursing school, is a great way to deepen  your experience in and connection to Uganda.
CHIMPANZEES
Being in the proximity of human's closest relatives takes some physical effort, but this special opportunity is absolutely worth the work! I visited chimpanzees in Uganda's Kibale Forest National Park. Located on the country's west side. Kibale (pronounced Chi-BAH-lee) Forest National Park boasts a population of more than 1,000 chimps, making it Uganda's best option for chimpanzee trekking.
Kibale National Park is covered by an equatorial rainforest that has the highest concentrations of primates in the world. In addition to the chimpanzees, Kibale is also home to other primates (black & white colobus monkeys, red-tailed monkeys and grey-cheeked mangabey) and is the only place on earth to find the red colobus monkeys.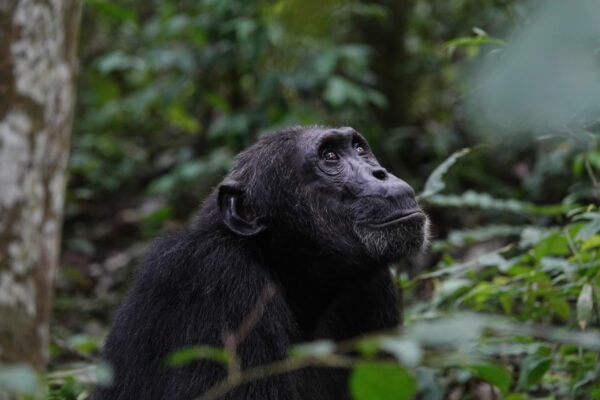 Getting to Kibale Forest National Park
To reach Kibale Forest National Park, you will fly into Kasese Airstrip in a shared light aircraft. From there, it is roughly an hour drive to reach the park.
My Accommodations
I stayed at Primate Lodge Kibale, in the heart of the Kibale Rainforest National Park. The lodge offers nine luxury cottages nestled in the forest, which give you the feeling that you are really part of the natural surroundings. The lodge is very near the park headquarters, allowing you the convenience of walking to the meeting point for the start of your trek.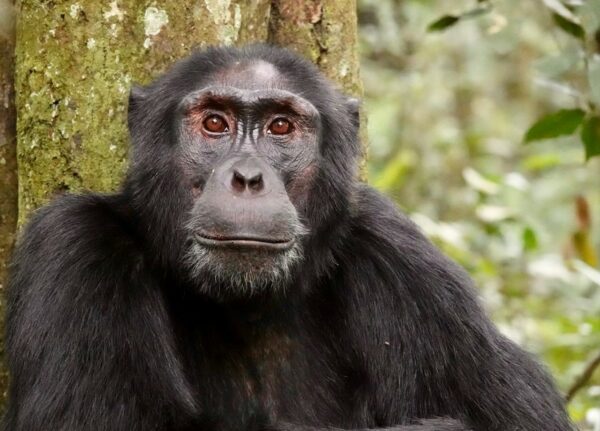 Visiting the Chimps
Upon arrival at the briefing center, you will be welcomed by park rangers who will take you through a detailed briefing before leading you into the forest. Note that there are no porters for a chimpanzee trek, and you will be responsible for carrying and managing your own daypacks and supplies.
There are two chimpanzee treks available each day: one at 8:00am and the other at 2:00pm. If you only have time for one trek, I encourage you to choose the morning trek, as the chimps are generally more active this time of day. By mid-afternoon, they will begin to settle in for the evening. However, seeing the chimpanzees is not guaranteed, so I advise travelers to participate in two treks to increase the likelihood of a sighting. During this tracking experience, you have an opportunity to spend an hour with chimpanzees, watching them feed, socialize and nurse their little ones. After your trek, you will return to the lodge.
There are also additional chimps who are currently being habituated (habituated means that they are currently going through the process of adjusting to seeing humans). Guests are able to visit these troops, but our guides reported that it is typically much harder to locate these chimps and they are generally farther away, which increases the difficulty of the trek. There is also an additional cost for these treks.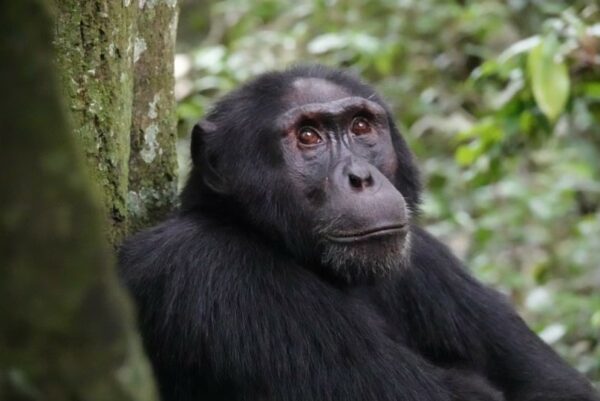 About the trek
Chimpanzees tend to spread out over their territories, and they are often on the move. Chimps have a special call that you will come to recognize as you trek, and you are likely to hear them banging on trees and making a lot of noise. For this reason, once your guide spots – or hears – a nearby chimp, the group will follow it to find the larger troop. Chimps move quickly, and you will likely have to hustle to keep up with them! The males will be out hunting or socializing and will lead you back to the troops. It is often harder to see females and babies: they are shy and the females are appropriately protective of their young. They do not sit or move slowly like the mountain gorillas, although I was lucky enough to have a few chimps sit still for a bit, which allowed me to snap some photos.
A FINAL WORD ABOUT UGANDA
Whether you choose to trek to mountain gorillas, chimpanzees, or both, be prepared to connect with nature and wildlife in a new and special way. Uganda is going to offer you an unforgettable primate experience, but don't forget that there is more to this country than these incredible primates.
Please check out additional blogs experiences in Uganda:
My "Top 3" Reasons to Visit Uganda
Gorilla Trekking: Comparing Uganda & Rwanda